Gyantse Horse Racing Festival
by Larry
Last Updated: 2020-12-28
Gyantse is a beautiful place located in the south of Tibet with an altitude of 4000 meters on average. Gyantse means "the peak of victory " in Tibetan and it lies among the mountains. Many ancient customs last for hundreds of years and the locals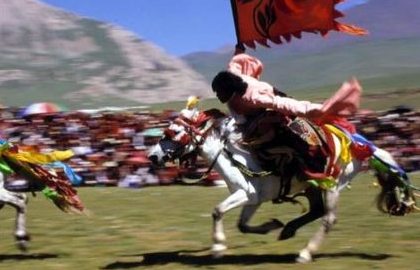 live a traditional life there. There are so many festivals handed down in the ancient town and the Gyantse Damar Festival(also known as Gyantse Horse Race Festival) is the most famous one. Originated from the 15th century, the annual athletic competition takes place in the 4th month of the Tibetan calendar in the past. But now, the Damar Festival is mostly held on July 20 during the slack season, and the festival usually takes 5-7 days. Various content included in Gyantse Horse Racing Festival such as archery, wrestling, Tibetan Opera, yak racking,  and divine rituals is taking place there. Also, there is an attractive trading market where you can pick some specialty of Tibet and have a picnic where you can enjoy a good time with hospitable local Tibetans.

When Gyantse Damar Festival comes, the Tibetans live in the region and some travelers from all over the world would come to attend the celebration. Thousands of tents are set up near the city, which makes this area a splendid view from afar. The athletes and artists compete on the plain where various flowers are blooming around. Watching the festivities and competitions will be an exciting experience which you can not miss during your Tibet tours in July. Also, visiting towns nearby would be a good choice for you.

Tourist Attractions in Gyantse
The Pelkor Chode Monastery and Kumbum stupa are the top attractions in Gyantse. Unlike the other stupas in Ti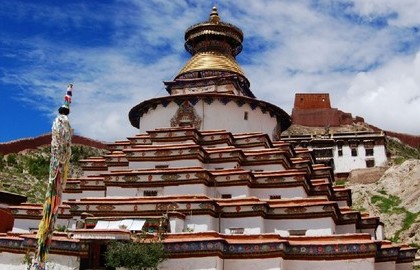 bet, The Kumbum Stupa is a unique stupa with a style of Nepal. As a giant architectural stupa with heights of 34m, the Kumbum Stupa means "hundreds of thousands of Buddha images" in Tibetan. It is situated in the Palkhor Monastery and once it was one of the most important centers for Sakya sects in Tibetan Buddhism.
The Palkhor Monastery is a typical Tibetan Buddhism Monastery that combined the stupa with the temple. It was set up by the local prince Rabten Kunsang Phak and 1st Panchen Khedrup Je in the 15th century. The Palkhor Monastery is very special because it's the only temple in Tibet houses monks from different sects. The monks from the Gelugpa, Sakyapa, and Kadampa sects co-exist in perfect harmony in this monastery. The main structure of The Palkhor Monastery is a three-story building. It's incredible that hundreds of thousands of statues of Buddha are stored there. Each of them is exquisite and valuable.

The Kumbum Stupa is one of the most special temples all over the world. Erected in 1418-1427, the masterpiece is built with 9-story temples piled up like a pyramid. It's designed to be a mandala which is a model of the cosmos in Buddhism. It's considered that monks could be enlightened when they practice Dharma there. With a great number of artworks, The Kumbum Stupa could be one of the most standout places in Tibet.

History
Gyantse Damar Festival was first taken place in 1408 to commemorate a Minister - Paba Sambu of the Interior of the Sakya Dynasty. He was diligent in government for the people, doing good deeds, and was quite famous among the local people. After his death, the people of Gyantse held commemorative activities for him every year, which gradually evolved into a horse racing festival. As time goes by, it became an important competition all through Tibet. Buddhist activities, dancing to the god, song and dance performances and other events were added in. With the increasing number of people coming to the celebration, a trade market was also built up for Tibetans.
Related Articles
Recommended Tour Packages
Ask a Quick Question Below? Or Call 0086-891-6679450
Email response within 0.5~24 hours.