Hongkong Tibet Tour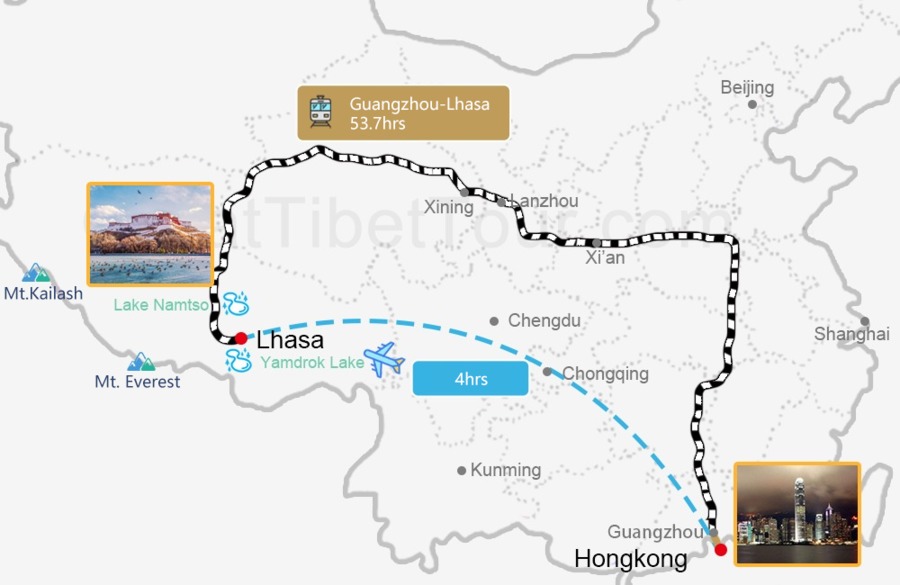 Hong Kong, the third-largest financial center in the world, is an international hub of China. Hongkong is a mixture of Chinese and Western cultures, which combines Chinese wisdom with western social system advantages. Traveling in Hongkong, you may find yourself stepping on an amazing land that has the reputation of "the Pearl of the East", "food paradise" and "shopping paradise". So there are lots of things you can do when traveling to Tibet, tasting the delicious finger-licking cuisines, shopping in the glorious street and enjoying the wonderful nightlife.

Hong Kong is absolutely a good destination to start your Tibet tour. A Hongkong Tibet Tour will take you to explore the distinct colonial cultural heritage, classic Hong Kong movie sets, and world-class theme parks in Hongkong and enjoy the profound Buddhist culture and stunning nature view in the holy Tibet.

If you are HK residents, there is no need to obtain a Tibet Travel Permit to enter Tibet while foreign travelers have to get a Tibet Travel Permit to enter Tibet. As there are no direct flights and trains to Tibet from Hongkong, travelers should transmit from mainland China such as Guangzhou, Beijing, Shanghai, and Chengdu to Tibet.

As a local Tibet travel agency, Great Tibet Tour has operated Tibet tours for more than 10 years. If you join us, we would like to customize your Hong Kong and Tibet tour according to your demands and offer you good tour services such as Tibet Visa Application, Tibet train and flight booking and Hong Kong Tibet tour packages and so on.