Lanzhou Tibet Tour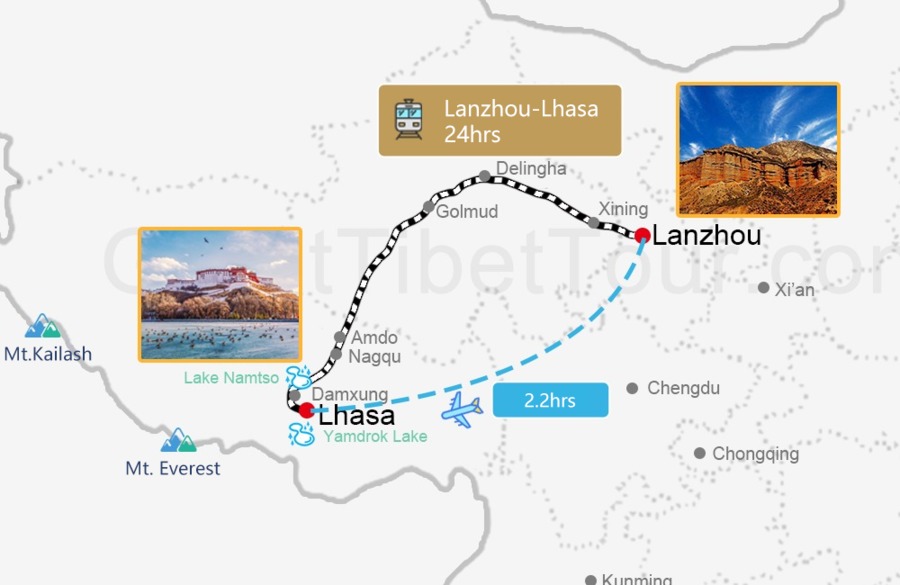 Lanzhou located in northwest China is the capital city of Gansu province. With the Yellow River, one of the important rivers of China running through the city, Lanzhou is abundant in rich crops of many juicy and fragrant fruits. When comes to the word Lanzhou, it may remind you that it is the key point of the ancient Silk Road which covers an area of 1631.6 square kilometers. With Dunhuang Mogao Caves to the north, Labrang Monastery to the south, Bingling Temple Grottoes to the west and Maiji Caves to the east, Lanzhou is a hub of the Silk Road Tourism Ring.

A Lanzhou Tibet tour will take you to visit two different cities. A short tour in Lanzhou will bring you the beautiful scenery of the Yellow River. And It is also a good place to appreciate the unique culture of Islamic. Then make your way to Lhasa, the capital city of Tibet. During the tour of visiting Lhasa, you will see the famous world heritage the Potala Palace and Jokhang Temple, and you are going to visit the monasteries that full of Buddhist characteristics. And you may have a good opportunity to witness the spectacular view of Mount Everest.

Lanzhou is a transportation hub connecting western and central China. There are multiple flights to many large cities from Lanzhou. With three train stations, Lanzhou is the termination of the Longhai Railway, an important east-west rail route in China. Thus it is so convenient to travel to Tibet from Lanzhou. If you wanna travel to Tibet from mainland China, Lanzhou is definitely a suitable gateway. And you are supposed to take at least 3 days in Lanzhou to explore this beautiful city. After that, make your way to Tibet to discover this holy land.