5 Days Ganden Thangka Unveiling Festival Tour
Ganden Thangka Unveiling Festival Tour
Duration:

5 Days

Price:

From

USD1185

Route:

Lhasa-Gandan-Lhasa

Season:

Spring
Summer
Autumn
Winter

Tour Type:

Private Tour
Add

to Favorites
Overview
This tour is suitable for travelers who're interested in Tibetan Buddhist culture. It covers the top three monasteries of the Gelug sect in Tibet: Drepung Monastery, Sera Monastery and Ganden Monastery. Among them, Ganden Monastery is the ancestral monastery of Gelugpa. During the Gaden Thangka unveiling Festival, you will see displaying huge thangkas of Buddha images. The festival is held on the fifteenth day of the sixth month of the Tibetan calendar to commemorate the enlightenment of the famous Tibetan religious philosopher, Master Tsongkhapa. If you want, you may have a Lingkor (circle) trek at Ganden Monastery. The most valuable collections are the Great Tsongkapa's meditation cave and the 25 holiest relics. Also, you will visit the prominent landmarks of the splendid Potala palace, mystical Jokhang Temple and bustling Barkhor Street, where you can taste many Tibetan delicacies and discover the Tibetan way of life.
| Day | Route | Attractions & Activities |
| --- | --- | --- |
| 1 | Arrival in Lhasa (3650m) | Pick up and transfer to the hotel |
| 2 | Lhasa Sightseeing | Potala Palace, Jokhang Temple, Barkhor Street |
| 3 | Lhasa Sightseeing | Drepung Monastery, Sera Monastery |
| 4 | Lhasa-Ganden–Lhasa 140km, Approx. 3hrs | Ganden Monastery |
| 5 | Lhasa departure | Send off to the airport/train station |
When you arrive in Lhasa, our staff will pick you up at Lhasa Airport/ Railway Station and transfer you to the hotel. From the airport, it takes about 1 hour. From the train station, it only takes 20 minutes. Afterward, it's better to relax and take it easy on the first day to get acclimatized to high altitude and alleviate the jet lag. You might go to the local market and wander around the city on your own but try not to overtax yourself.
Stay overnight in Lhasa
Today, you will explore the Potala Palace, which is the winter palace of the Dalai Lama. The most valuable collections here are the gilded burial stupas of former Dalai Lamas and the meditation cave of the 33rd great king of Tibet. It's best to explore the inside of the Potala in the morning for 2-3 hours. Afterward, you may walk the pilgrimage route around the Potala Palace.
In the afternoon, you will head to the Jokhang Temple, which is well known as the center of Tibetan Buddhism and features Buddhist prayer wheels, reclining deer, and golden sutra streamers, etc. Also, you can see a lot of pilgrims praying in front of the temple and doing kora. After visiting the Jokhang Temple, you will stroll in the old alleys of Barkhor Street, where you can drink sweet tea, chat with locals and even bargain with the street vendors to understand the real life in Lhasa.
Stay overnight in Lhasa
You'll spend a day exploring two of three 'Great Three' Gelug monasteries - Drepung Monastery and Sera Monastery.
In the morning, you will head to the Drepung Monastery, which is the largest of all Tibetan monasteries that housed more than 10,000 monks in the past. It was the residence of the Dalai Lamas until the great fifth Dalai Lama constructed the Potala Palace. It was known for the high standards of its academic study and was called the Nalanda of Tibet. And then you also can visit the biggest monastery kitchen in the monastery and enjoy a Buddhist sculpture carving workshop near Drepung.
After lunch, drive to the Sera Monastery, which is renowned as the most beautiful Tibetan Monastery. It is famous for the Buddhis debate from 3 PM to 5 PM in the afternoon. You can also appreciate three sand Mandalas and colorful Rock Paintings of Buddha in the monastery.
Stay overnight in Lhasa
Today you will head to Ganden Monastery, about 60km northeast of Lhasa. It is well known as being one of the "Great Three" Gelugpa monasteries of Tibet, founded by the Great Tsongkhapa in 1409. Here, you will visit the greatest Tibetan master Tsonga's tomb and chapels of Ganden monastery. If the physical condition is fine, you have a chance to trek with a guide around the Gaden along with the amazing view of Lhasa valley.
At noon, you will have lunch in the monastery restaurant with good food and friendly service. Then, you will head to visit the beautiful Tibetan farmer's village nearby. During Ganden Thangka Festival, Monks in colorful robes and headwear walked out with the 25 holiest relics, which are normally locked away.
Stay overnight in Lhasa
Your Tibet tour ends today. After breakfast, you will be free in the morning. Our staff will collect you at your hotel to transfer to Lhasa Airport/Railway Station.
Tour Price and Service
From US$1185 p/p
Based on 3-star hotels for 2 people in low seasons. Price varies according to travel season, number of people and level of accommodation.
INCLUSIONS
Tibet Tourism Bureau Permit and all other necessary permits to Tibet;
All entrance tickets fee for tourist attractions listed in the itinerary;
Experienced local English-speaking tour guide;
Travel-licensed vehicle according to group size & season as itinerary needed including gas and parking fee;
All lodging listed in the itinerary; it's your decision about the accommodation class: luxury 5-star international hotel, comfortable 4-star hotel, economic 3-star hotel, or guesthouse. Please tell us your preference;
Breakfasts provided by hotels;
Pick-up & Drop-off service from Airport/railway station;
Travel Agency Liability insurance;
Government tax;
Express delivery fee of Permit (eg. SF. Express);
Food & lodgings for guide & driver;
Oxygen tank for emergency use;
Two bottles of mineral water per person per day.
---
EXCLUSIONS
International flight to and out of China;
Chinese Visa/China Group Visa; (Note: we could help you by providing the hotel or domestic flight reservation copies for your Chinese Visa or the invitation letter for your China Group Visa)
Domestic flight/train to and out of Lhasa; (We can help you book the domestic flight/train ticket at the BEST price. Please contact us for details.)
Meals are not included but we will recommend some good ones for you according to your requirements. Usually, it takes 3-10 USD per person for each meal.
While the gratuity for guide and driver is NOT mandatory, it is expected. Based on their service, you can tip them on the last day of the tour. Each of you is suggested to tip them 5-10 USD/day in total;
All the commission and tax charged by PayPal, Bank, and government when making payment. (e.g. PayPal --- 4.4%. Wire transfer --- 2%);
Personal expenses, like laundry, phone call, snacks, soft drinks, optional tour activities, etc.
Anything not mentioned in the Inclusions.
What Our Customers Say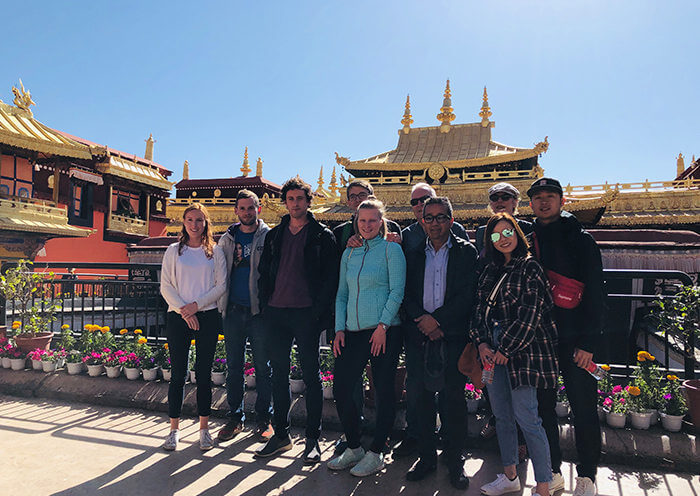 The initial itinerary that was sent to me called for Drepung/Sera on first full day, then Potala/Jokhang the next day. We ended up doing Potala first day and were grouped with 3 other tourists. Not a huge problem and we are used to having to be flexible when we travel, but would have been nice to ha ....
Read more testimonials...
INQUIRY ABOUT THE TRIP
Email response within 0.5~24 hours.