How to Visit Gyantse?
by Eric
Last Updated: 2023-03-22
Gyantse, a Hero City in Tibet, is located in Gyantse County, Shigatse Prefecture. Considered the Granary of Tibet, Gyantse is abundant in natural resources. Lying in the Nyangchu Valley on the trade route, Gyantse is also a historical and cultural place in Tibet that links the trade between India and Tibet as well as the pilgrims journeying across the Himalayan mountains in ancient times. Even if it is not as prosperous as it once was, it will remind you of its charm when you step on this fertile land.
Top Gyantse Attractions
Karola Glacier
Located in Lang Kartse county right next to the main road, Gyantse Karola Glacier is a spectacular glacier about 5,560 meters above sea level. The glacier is layered in black and white, but the upper half of the glacier shines in the sunlight like a giant thangka hanging from the mountain wall. It also shapes like a big frozen fall preparing to flow down from the high peak. >>See more about Karola Glacier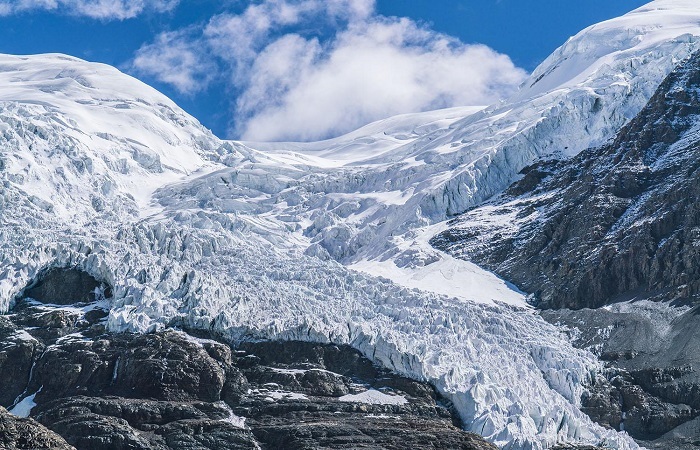 Palcho Monastery
With its long history and special geographic position, Gyantse process a great number of beautiful places that are worthy of visiting. Among those sights, Gyantse Kumbum in Palcho Monastery, the outstanding architectural wonder is the place you don't wanna miss. Rather than other monasteries in Tibet, Palcho Monastery combines building with stupas, temples and houses of three sects of Sakyapa, Kadampa and Gelugpa together. >>See more about Palcho Monastery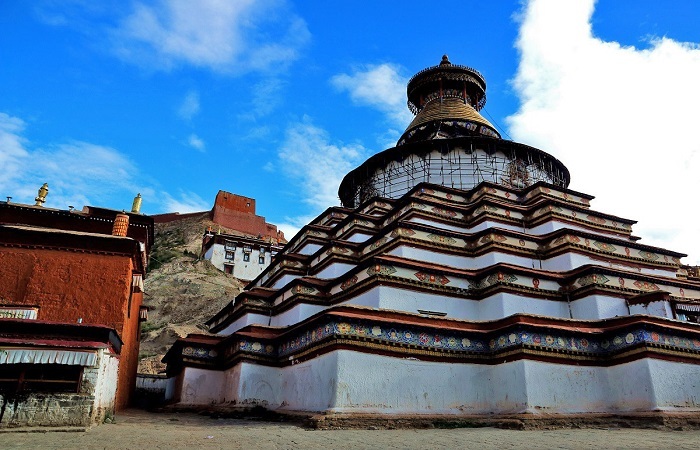 Gyantse Dzong
Standing high above the Gyantse City on a huge spur of grey-brown rock, Gyantse Dzong or Gyantse Fortress is one of the well-preserved dzongs in Tibet. Climbing on the top of the Dzong (City fort), you may have an opportunity to experience a great view of the valley. >>See more about Gyantse Dzong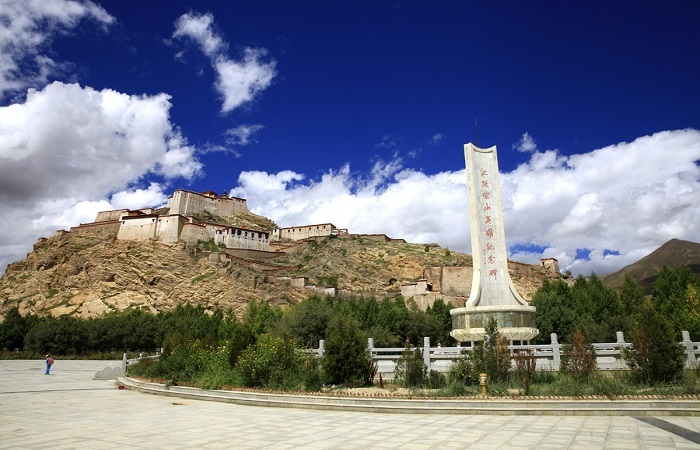 Pala Manor
As the former residence of a noble family, Pala Manor, the residence of a noble family, is the perfect place for tourists who wanna experience the history of Tibet. With its well-preserved traditional architecture, numerous imported goods, and exquisite accessories, Pala Manor would remind you of the luxurious life of nobles in Tibet at that time.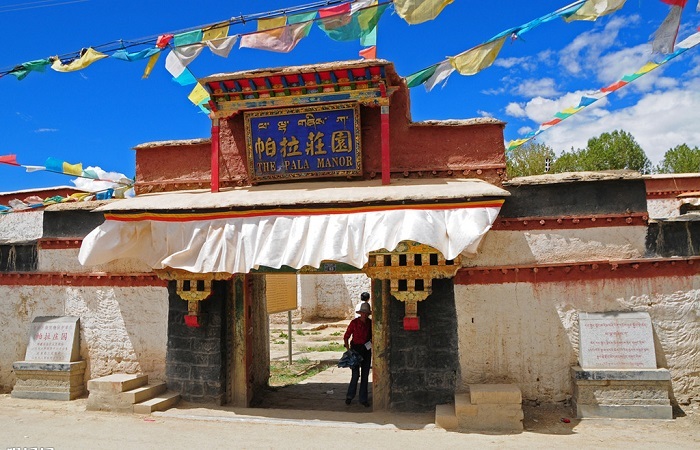 How to Get to Gyantse?
It is very convenient to travel to Gyantse. Gyantse, the hometown of Tibetan carpets, is 254 kilometers southwest of Lhasa. It was once the capital of the ancient Subi tribe and the third-largest town in Tibet. From Gyantse to the south, you can reach the Yadong Port on the China-Indian border. From Gyantse to Yamdroktso Lake, you can charter a car.
Lhasa to Gyantse
As the transfer center in Tibet and well-connected with many major cities, Lhasa seems to be the most popular departure city for tourists who wanna travel to Gyantse. Here in Lhasa, you can take a direct bus from Lhasa to Gyantse, or simply rent a jeep or other cross-country vehicle to send you to Gyantse.
Shigatse to Gyantse
Gyantse is only 90 kilometers away from Shigatse so there are many shuttle buses every day, ranging from 20 to 35 yuan per person. And the road is well-paved, belonging to a Grade II asphalt road. So you can take a flight from Chengdu to Shigatse or take a train to Shigatse from Lhasa. Then take a bus from Shigatse to Gyantse.
Best Time to Visit Gyantse
April to October is the best period for tourists to visit Gyantse with the proper temperature and nice weather. Gyantse belongs to a plateau monsoon climate with sufficient sunshine, strong ultraviolet radiation and great variation between day and night. It is gradually getting warmer in April. Therefore some thick clothes are necessary. To protect yourself from sunburn, you are supposed to take sunglasses and sunscreen.
Best Shot Places in Gyantse
Start from Palcho Monastery for about 2 kilometers towards Shigatse, at a place perpendicular to Palcho Monastery, and turn right on the crossroad. Every July, you can photograph large areas of golden rape flowers and highland barley, with the background of Gyantse Dzong and the pagodas of Palcho Monastery as well as the undulated red walls in the sunset, which are so beautiful. Or drive about 1km from Gyantse towards Lhasa, and walk down the field to the left at the head of a concrete bridge. This is the best place to shoot the sunrise in front of Gyantse Dzong.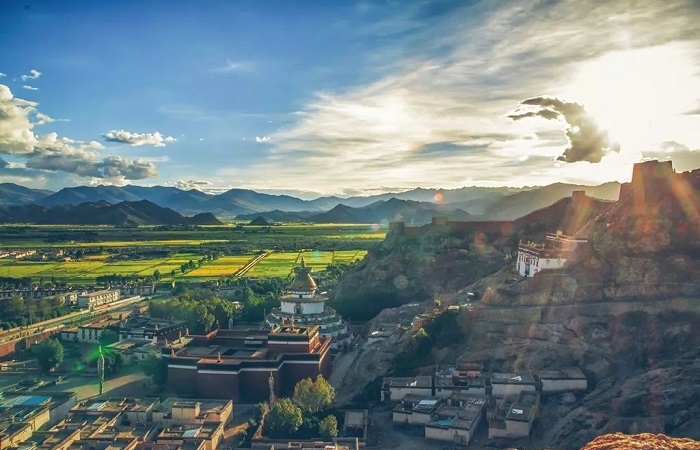 Where to Accommodate in Gyantse?
As an important tourist destination in Tibet, There are a great number of hotels in Tibet. However, the accommodation is not as good as that in Lhasa. Presently, there aren't any luxury hotels in Gyantse. The offered facilities are always limited as well. Gyantse Hotel, a 3-star hotel, located in the center and the ancient city of Gyantse, which processes 120 different-typed rooms and provides different types of food is a good choice for you. Meanwhile, Hot water is 24 hours available for you and free Wi-Fi is fully covered.
Regarded as the best budget hotel in Gyantse with a 2-star standard of amenities and services, Gyantse Jianzang Hotel is also a good option for you. The accommodation is rather basic while the services are very well, the staff is very friendly and helpful. >>See more about hotels in Gyantse
Related Articles
Gyantse Map
Gyantse map includes tourist attractions. Check the detailed Gyantse travel maps and find tourist spots, travel routes, nearby counties, etc.
Ask a Quick Question Below?
Email response within 0.5~24 hours.