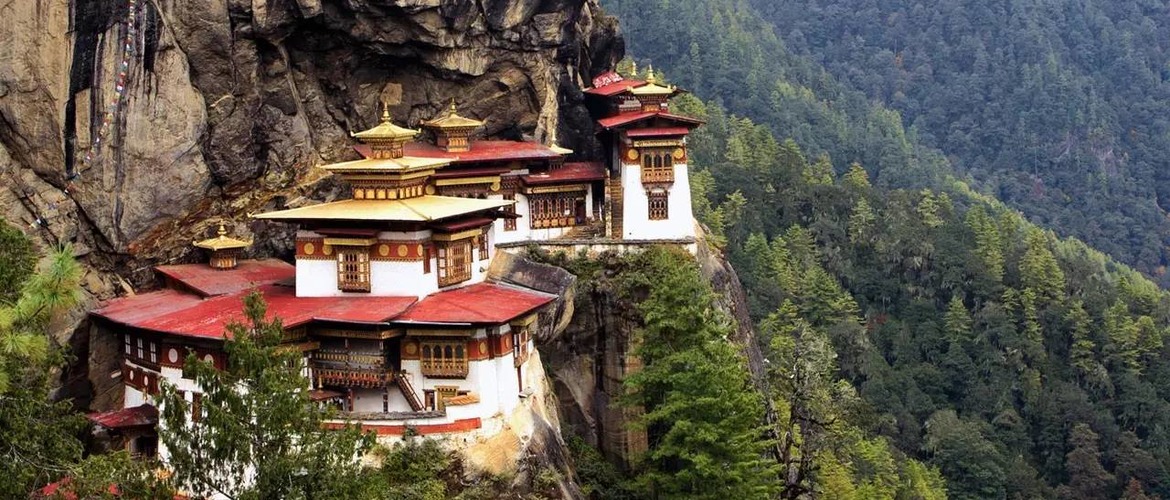 Taktsang Monastery, also known as Tiger's Nest or Taktshang Goemba, is located at a cliff of the Paro valley in Bhutan. Known as the most important place of pilgrimages in the Himalayas, it is said that the Taktsang Senge Samdup cave next to the temple is where Guru Padmasambhava meditated for three months.
Location
Taktsang Monastery located 12 kilometers from Paro town, Bhutan. It stands at 2, 950 meters above the sea level, clinging to an 800 meters' rock.
Legend and History
It is said that local people found a tigress resident in one of the caves, and the legend goes that the tigress was Yeshe Tsogyal, the spouse of Guru Padmasambhava. In 747 AD, the tiger carried Guru Padmasambhava to this site from Singye Dzong, and then the Guru meditated in one of the caves on the sheer rock. The tiger subdued evil spirits and the Guru emerged in 8 incarnated forms. Since then, this site became an important pilgrimage destination in Himalayan Buddhism.
Taktsang Monastery was built around the cave in 1692, devoted to Guru Padmasambhava. Recognized as the icon of Bhutan, Taktsang Monastery is the most attractive scenic site. During March or April, a festival called Tsechu will be held in Paro valley, in honor of the Guru Padmasambhava.
How to Visit
Without the help of a tiger, the hike will be a bit difficult. It usually takes 3 hours to hike to the monastery, but if you're an energetic trekker, 2 hours are enough. To complete the journey, you'll walk for 4 kilometers and ascend 700 meters' elevation. You're suggested to walk slowly to adapt to the altitude.
Once you arrive at the entrance, you will stand on a rock with the monastery on the other side. Stone steps are carved into the cliff, and the cliff drops to the gorge below. What your steps and hold the handrails, you should walk to the Tiger's Nest carefully. During the hiking, a one hundred meter high waterfall will appear in front of your face.
Before entering the Taktsang Monastery, travelers should remove their shoes. At the destination, three beautiful temples and breathtaking landscapes are waiting for your appreciation. Of course, you can enter the cave where Padmasambhava meditated and feel the mysterious legend on your own.
Recommended Tours Including Taktsang Monastery
Travel to the most important three towns to discover Bhutan's history, enjoy landscapes, and experience Buddhist culture, architecture, art, and local customs of the west and center of Bhutan in a deep manner.
Bhutan 4 days 3 nights itinerary will take you into Bhutan - the land of thunder dragons, which has a long and original history and natural scenery.
With this In-depth Explore Cultural tour, you will go to the heartland of Bhutan with extensions to Trongsa and Bumthang.
Get More Itineraries Including Taktsang Monastery
Ask a Quick Question Below? Or Call 0086-891-6679450
Email response within 0.5~24 hours.