Chongqing Tibet Tour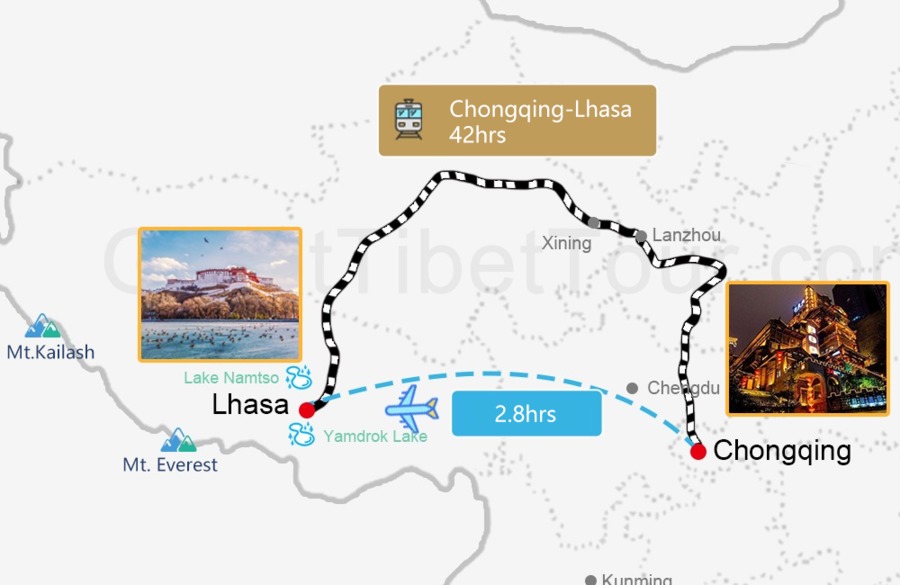 Located in the southwest of China, Chongqing is a modern metropolis with a booming economy. Because the city is built by the mountain, with uneven roads and buildings, Chongqing is boasted as a "hilly city". With the rapid growth of the business, it's also called "small Hong Kong". As a famous city in the west of China, Chongqing attracts lots of tourists from home and abroad. There are lots of famous attractions and historical relics such as Jiefangbei CBD Skyline, Temple of the White Emperor, Egongyan Bridge, Three Gorges, etc. which are worthy of being visited.
At present, with the development of transportation, getting to Chongqing is not as difficult as before. Both flights and trains are available for travelers to get to Chongqing. What's more, owing to the superexcellent geographical position, travelers can take a cruise tour from the downstream of the Yangtze River, then reach Chongqing.
After exploring the beauty in Chongqing, you can head to the Purest Land in the World - Tibet. Nowadays, there are two main ways for travelers to get to Tibet from Chongqing. For travelers having a tight schedule, you can take a direct flight from Chongqing to Lhasa. For other travelers hoping to enjoy the scenery along Qinghai-Tibet Railway, you can take the direct train from Chongqing to Lhasa.
As a professional travel agency, Great Tibet Tour provides varies of Chongqing Tibet tour packages, pieces of travel advice, Tibet Travel Permit application, and Chongqing Lhasa flight or train tickets booking services.
This 15-day tour will take you to visit the six famous cities in China from east to west. You will have an opportunity to visit the capital city Beijing. Then take a short tour to Xi'an. After that, you are going to visit Lhasa, the roof of the world then fly to Chongqing to enjoy the breathtaking view of Yangtze River as well.