14 Days Lhasa Tsedang Beijing Ulaanbaatar Tour
Lhasa Tsedang Beijing Ulaanbaatar Tour
Duration:

14 Days

Route:

Lhasa - Tsedang - Lhasa - Beijing - Ulaanbaatar

Season:

Spring
Summer
Autumn
Winter

Tour Type:

Private Tour
Add

to Favorites
Overview
Trans Tibet Beijing Mongolia tour gives you marvelous opportunities to explore the ancient cultures and prosperous features in the three places. From this trip, you will find that Mongolian and Tibetan people have a lot in common, such as their clothing, nomad lifestyle, Buddhism culture, etc. On the way, you will experience the splendid cultural relics in Beijing and then take Beijing to Ulaanbaatar train. The train ride will be long but it's interesting as you can witness changing picturesque landscape outside. What's more, the journey is incomparable, and you'll love every side of the experience. Every phase of the trip is designed for your exclusive enjoyment.
| Day | Route | Attractions & Activities |
| --- | --- | --- |
| 1 | Arrival in Lhasa (3650m) | Pick up and transfer to the hotel |
| 2 | Lhasa Sightseeing | Potala Palace, Jokhang Temple, Barkhor Street |
| 3 | Lhasa Suburb | Drepung Monastery, Sera Monastery |
| 4 | Lhasa - Tsedang | Yumbulakang Monastery, Trundruk Monastery |
| 5 | Tsedang - Lhasa | Samye Monastery |
| 6 | Lhasa - Beijing | Flight to Beijing |
| 7 | Beijing Sightseeing | Forbidden City and Hutongs |
| 8 | Beijing Sightseeing | Temple of Heaven Park, Less-Crowded Mutianyu Section of the Great Wall |
| 9 | Beijing - Ulaanbaatar | Enjoy the scenery on the train |
| 10 | Ulaanbaatar(A) | Enjoy the scenery on the train |
| 11 | Ulaanbaatar(B) | Gandantegchinlen Monastery, Sukhbaatar Square, National Museum of Mongolia |
| 12 | Ulaanbaatar - Terelj National Park | Terelj National Park |
| 13 | Terelj National Park - Ulaanbaatar | Winter Palace of the Bogd Khan, Zaisan Memorial |
| 14 | Departure from Ulaanbaatar | Departure from Ulaanbaatar |
When you arrive in Lhasa, our staff will pick you up at Lhasa Airport/ Railway Station and transfer you to the hotel. From the airport, it takes about 1 hour. From the train station, it only takes 20 minutes. Afterward, it's better to relax and take it easy on the first day to get acclimatized to high altitude and alleviate the jet lag. You might go to the local market and wander around the city on your own but try not to overtax yourself.
Stay overnight in Lhasa
After resting one night, today you will recover sufficiently to launch your Lhasa city tour, with close contact with Lhasa, which is the political, economic, cultural, communication and tourism center of Tibet with a history of over 1300 years.
At first, you will go to the Potala Palace, which is the symbolic place of Lhasa and also the winter palace of the Dalai Lama. It was built by the 33rd great king of Tibet - Songtsen Gangpo in the 7th century. The gilded burial stupas of former Dalai Lamas and the meditation Cave of the 33rd great king are the most worth seeing in Potala Palace.
After lunch, you are going to Jokhang Temple, which was founded at the same time and by the same king as Potala Palace. From the outside, you can see many pilgrims prostrating in front of the temple. The most precious treasure of this temple is the statue of Buddha Sakyamuni at the age of 12.
Barkhor Street is the next destination that women love a lot. Because it's a famous busy walking street where they can go shopping. There are many distinctive shops and stalls that sell different Tibetan stuff, like handicrafts, Thangka, and so on. Except for shopping, tourists can also join the Kora with pilgrims and locals, to explore Tibetan religious culture more deeply.
Optional:
You can go to visit the Tibetan handicraft art or Tibetan Traditional Medicine center if time is enough. You can also watch the Tibetan Culture Show in the evening for USD60 per person at your own expense.
Stay overnight in Lhasa
Today's first attraction is Drepung Monastery. Drepung means "piles of rice" in Tibetan, which symbolizes prosperity. It's the world's largest monastery that housed more than 10,000 monks in the past. Also, It's the highest-ranking monastery in the Gelug Sect. After lunch, you will continue to visit the Sera Monastery, the most beautiful Tibetan monastery in Lhasa. The most attractive activity at Sera Monastery is to watch Buddhist scriptures debating from around 3 to 5 in the afternoon.
Stay overnight in Lhasa
After breakfast, you will start your trip from Lhasa to Tsedang. It will take you about 2 hours to drive to Tsedang, which is the political center of Shannan prefecture. Usually, Shannan is regarded as the area where civilization started in Tibet, and it dramatically played significant roles in the growth and development of Tibetan Buddhism.

In the afternoon, we can drive you down to Yumbulakang Monastery and Trundruk Monastery. The first palace of Tibet started from Yumbulakang about 2,000 years ago. Most of the ancient sculptures and paintings in Tsedang were done in Yumbulakang. Also, Trundruk is an excellent place you'll love to be, and during the visit, you will see an eye-catching and stunning Tangkha of Pearls beautifully decorated and designed with 29,026 pearls.
Note:For now, Yumbulakang is temporarily closed for maintenance, and no tourist will be allowed to visit the site now. Nonetheless, tourists can still enjoy it's unbelievable and magnificent appearance when sighted from the foot of the hill.
Stay overnight at Tsedang
This morning, you will visit the Samye Monastery, which is the well-known monastery in Tibet. Samye Monastery was believed to be the first known official Buddhist Monastery that was established in Tibet based on Buddhist terms – Buddha, Monks, and Scriptures. According to history, there was a very popular debating about Buddhism between the people of Chinese Buddhism and ancient Indian Buddhism. Following the description of the universe according to Buddhism scriptures, as well as the features of Tibetan, Chinese and Indian, Samye Monastery was built which symbolizes the center of the world.

After your trip to Samye Monastery, you will be transported back to Lhasa in the afternoon.
In the morning, you will take a flight to Beijing Capital International Airport. It takes about 3h50m. After arriving in Beijing, your guide will greet you at the airport and take you to the hotel. The rest of the day is your free time. You can take a stroll around the hotel and experience the local customs of Beijing.
In the morning, we will set out to see the mysterious Forbidden City which is the world's largest imperial palace complex. Since it was built in Ming Dynasty, The Forbidden City was home for 24 emperors (from 1420 to 1911 AD). It's said to have 9,999½ forbidden imperial chambers. After that, you are moving to Tian'anmen Square with a great cultural significance which has been the site of several key events in Chinese history. Later, you can take a rickshaw going through a maze of Hutongs to explore old Beijing neighborhoods, discover the courtyard house of traditional Chinese characters.
Stay overnight in Beijing
You will have many interesting things to do today. In the morning, you are suggested to do Morning Exercises at the Temple of Heaven, which was founded in the early 15th century. Known as the Imperial Sacrificial Altar, Temple of Heaven always attracts numerous tourists. To avoid crowds and enjoy local people's morning exercises, we are going to this place in the morning. After visiting Temple of Heaven, we'll drive 2.5 hours to the Mutianyu section of the Great Wall, where you can go through the watchtowers and enjoy breathtaking views as it snakes across the hills and mountains.
Stay overnight in Beijing
You will be picked up from your hotel, and then escorted to the railway station. On the train, you will have a soft sleeper to Ulaanbaatar. The train to Ulaanbaatar leaves the station around 11:22 am. So, you are going to spend the rest of your day and night on the train as this journey takes 28 solid hours to arrive in Ulaanbaatar.
Your trip in the morning would be to visit the ancient 19th-century Gandantegchinlen Monastery, which is known as the most significant monastery in the entire country – the "Great Place of Complete Joy" as it's usually called. And from here, we drive down to Sukhbaatar Square – Chinggis Khaan Square as it's officially been called. The Sukhbaatar is located in the center of the city, and then our next stop would be the National Museum of Mongolia. Here, we can get to know more about Mongolian history and culture. On the last trip for the day, we then visit some of the most popular local markets in the area before driving back to the hotel.

Stay overnight at Ulaanbaatar
In the morning, we will drive about 1 hour to the Terelj National Park. En route, we would also take you to majestic Genghis Khan's Statue and its bottom museum to see the displaying Mongolian pottery, weapons, and jewelry. After getting to Terelj National Park, we will have lunch at Ger camp first.

After taking lunch at the Ger camp, we can take a stroll to see the lifelike Turtle Rock, and then visit the popular Ariyabal -- meditation temple. However, getting to this temple takes a minimum of 1-hour walk. This temple is only accessible by walking. The Park itself has a way of impressing tourists and travelers with its rocky granite hills, beautiful forest, beautiful rocks with fantastic shapes, rivers, and its green meadows. However, to have complete fun here, you can join any of the activities right here if time permits like hiking, trekking, and horse riding.

And before going for dinner, we can then have a herder family visit to understand how local people have been surviving and living for centuries there. If you want to try the tasted Airag, this is a great place to it as it is made of fermented milk gotten from a horse.
Stay overnight at a tourist center at the Ger camp in the park.
At around 10:30 am in the morning, we return to Ulaanbaatar, and then have lunch in the city before heading to the Winter Palace of the Bogd Khan, which is now a museum, but historically, it used to be the winter dwelling of Bogd Khan.

The last visit for this trip would be to visit Zaisan Memorial, whose location is on the hill south of the city to have a panoramic view of the entire Ulaanbaatar city.

And in the early evening, a lively folk show called the "Wonders of Mongolia" will be arranged specially for you. This exciting and unique folk show will be performed by a renowned and famous Tumen-Ekh folk art group.
We will drive you down to the airport or train station to proceed with your journey to the destination.
Our Service
INCLUSIONS
Tibet Tourism Bureau Permit and all other necessary permits to Tibet;
All entrance tickets fee for tourist attractions listed in the itinerary;
Experienced local English-speaking tour guide;
Travel-licensed vehicle according to group size & season as itinerary needed including gas and parking fee;
All lodging listed in the itinerary; it's your decision about the accommodation class: luxury 5-star international hotel, comfortable 4-star hotel, economic 3-star hotel, or guesthouse. Please tell us your preference;
Breakfasts provided by hotels;
Pick-up & Drop-off service from Airport/railway station;
Travel Agency Liability insurance;
Government tax;
Express delivery fee of Permit (eg. SF. Express);
Food & lodgings for guide & driver;
Oxygen tank for emergency use;
Two bottles of mineral water per person per day.
EXCLUSIONS
International flight to and out of China;
Chinese Visa/China Group Visa; (Note: we could help you by providing the hotel or domestic flight reservation copies for your Chinese Visa or the invitation letter for your China Group Visa)
Domestic flight/train to and out of Lhasa; (We can help you book the domestic flight/train ticket at the BEST price. Please contact us for details.)
Meals are not included but we will recommend some good ones for you according to your requirements. Usually, it takes 3-10 USD per person for each meal.
While the gratuity for guide and driver is NOT mandatory, it is expected. Based on their service, you can tip them on the last day of the tour. Each of you is suggested to tip them 5-10 USD/day in total;
All the commission and tax charged by PayPal, Bank, and government when making payment. (e.g. PayPal --- 4.4%. Wire transfer --- 2%);
Personal expenses, like laundry, phone call, snacks, soft drinks, optional tour activities, etc.
Anything not mentioned in the Inclusions.
What Our Customers Say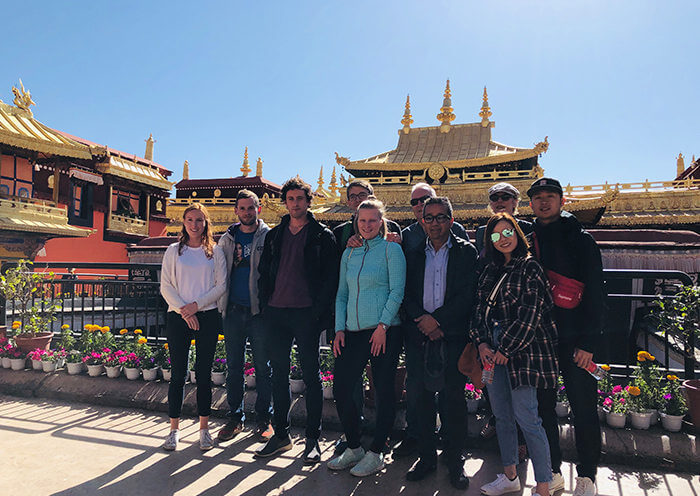 The initial itinerary that was sent to me called for Drepung/Sera on first full day, then Potala/Jokhang the next day. We ended up doing Potala first day and were grouped with 3 other tourists. Not a huge problem and we are used to having to be flexible when we travel, but would have been nice to ha ....
Read more testimonials...
INQUIRY ABOUT THE TRIP
Email response within 0.5~24 hours.