5 Days Sera Utsé Hermitage Half Day Trekking Tour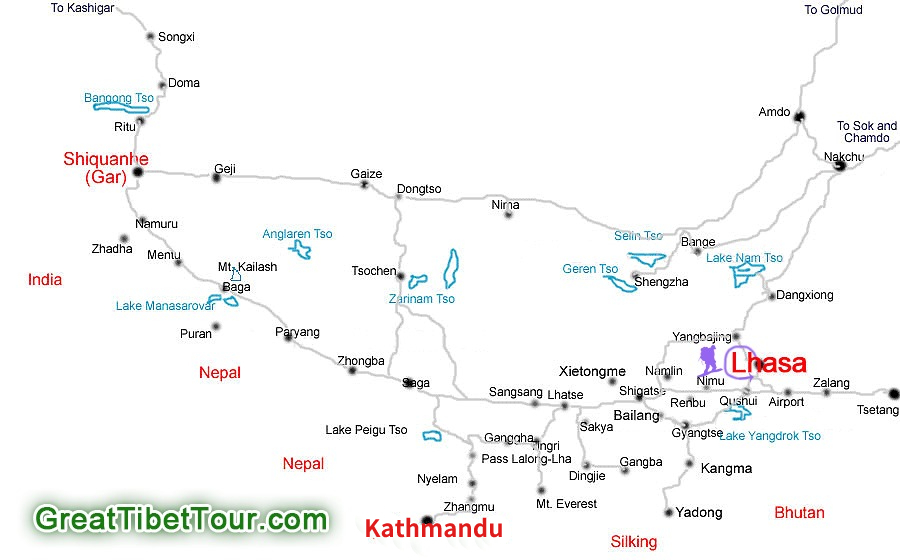 Sera Utsé Hermitage Half Day Trekking Tour
Duration:

5 Days

Route:

Lhasa

Season:

Spring
Summer
Autumn
Winter

Tour Type:

Private Tour
Add

to Favorites
Overview
This is a perfect trip that combines leisurely exploring the famous sights of Lhasa with the excitement of hiking on Sera Utsé Mountain. During this trip, you will not only visit the must-see attractions in Lhasa, such as the Potala Palace, Jokhang Temple, etc. but also experience the cultural charm of Tibetan Buddhism on foot. There are many hidden small temples on the trails, such as Pabanka Monastery, Tashi Chöling Monastery, etc. Because these temples are located in the high altitude mountains, tourists rarely arrive. At the end of the hike, you will see a magnificent panoramic view of Lhasa, and there are many prayer flags flying on the top of the mountain. "Sera" means wild rose in Tibetan. In summer, Sera Utsé Mountain is full of various plateau flowers, which is a good season for hiking.
| Day | Route | Attractions & Activities |
| --- | --- | --- |
| 1 | Arrival in Lhasa (3650m) | Pick up and transfer to the hotel. |
| 2 | Lhasa sightseeing | Drepung Monastery, Sera Monastery |
| 3 | Lhasa City | Potala Palace, Jokhang Temple, Barkhor Street |
| 4 | Lhasa - Sera Ütse Hermitage - Lhasa | Pabanka Monastery, Tashi Chöling Monastery, Dadian Monastery, Sera Ütse Hermitage |
| 5 | Departure from Lhasa | Send off to the airport/railway station |
Day 1 Arrival in Lhasa (3650m)
This is the first day in Tibet. Your guide will greet you at Lhasa Gonggar Airport/Railway Station and transfer you to your hotel. It usually takes around 1.5 hours to drive from Lhasa Airport to downtown Lhasa and takes about 20mins from Lhasa Railway Station. Tourists could have a look at the Yarlung Tsangpo River, the largest and longest river in Tibet on their way to the hotel. After check-in, you can have a good rest first. And if you feel like going out, you can wander around the city. But just remember that don't take too much stuff, try to go with a light pack. Meanwhile, drink some more water, do not move strenuously. It's really useful to get acclimatized to the high altitude.
Stay overnight in Lhasa
Day 2 Lhasa sightseeing
Today is your first day of sightseeing on the high plateau. Your guide will meet you at the lobby of your hotel.
In the morning, the first station is the Drepung Monastery, which is the largest of all Tibetan monasteries that housed for more than 10,000 monks. It was the residence of the Dalai Lamas until the great fifth Dalai Lama constructed the Potala Palace. It was known for the high standards of its academic study and was called the Nalanda of Tibet. And then you also can visit the biggest monastery kitchen in the monastery and enjoy a Buddhist sculpture carving workshop near Drepung.
Then after lunch, you will head to the Sera Monastery, which is another one of the 'Great Three' Gelug monasteries. It is famous for the Buddhism activities of "Monks Debate" for around 3 to 5 PM in the afternoon. Also, inside the monastery, the three sand Mandalas and colorful Rock Painting of Buddha are the hot attractions.
Stay overnight in Lhasa, 3★/4★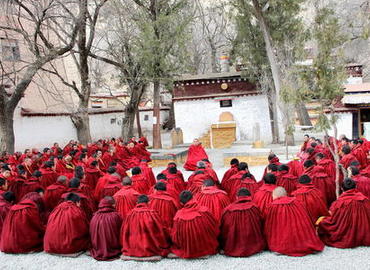 Day 3 Lhasa City
In the morning our guide will meet you at the hotel and first take you to visit the famous Potala Palace, the cardinal landmark of Tibet and the masterpiece of Tibetan architecture. It was first built by the 33rd King - Songtsen Gangpo in the 7th century and rebuilt later by the 5th Dalai Lama in the 17th century. Now it's a museum and world heritage site.
In the afternoon, we will go to visit Jokhang Temple in the center of the Lhasa old town. Jokhang Temple is one of the most sacred temples all over Tibet and it is always bustling with earnest local pilgrims since the early days. After that, you will take a walk around the Barkhor Street - one of the most devotional circuit as well as a crowded central market of Lhasa. Barkhor Street is a very ancient round street surrounding the Jokhang Temple and the locals are always proud of it. As a symbol of Lhasa, it's also a must-see place for visitors.
Stay overnight in Lhasa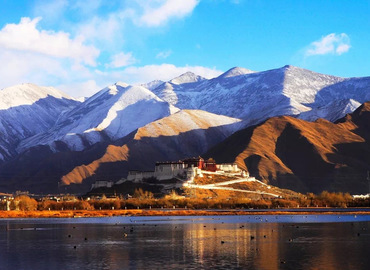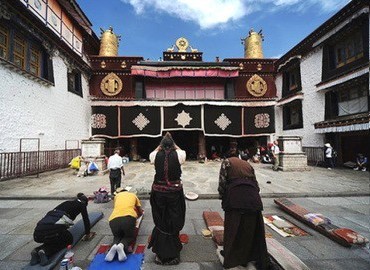 Day 4 Lhasa - Sera Ütse Hermitage - Lhasa
In the morning, we will drive to Pabanka Monastery. Pabanka is a thousand-year-old Monastery, originally built for Songtsen Gambo. From there, we will start our hiking and climbing along the mountain path. It took about half an hour to reach Tashi Chöling Monastery. Tashi Chöling means "Auspicious Land of Dharma", from where you can overlook Pabanka burial platform. Continue up 160 meters from the trail to the east of Tashi Chöling Monastery and go round a ridge, you will see the Ani Quangpa practice site on the opposite mountainside and there's also a nunnery called Dadian Monastery. Dadian means "sign of enlightenment". Dadian is famous for its sacred spring at a high altitude. Here we can take a break and enjoy our own food while overlooking the magnificent panoramic view of Lhasa.
There is still about 2.5 kilometers to Sera Ütse Hermitage. You can choose to go down or ascend to Sera Ütse hermitage. Sera Ütse hermitage means "the peak of Sera". It was once the retreat of Tsongkhapa. Below the main road in front of Sera Ütse hermitage, there is a less obvious path that leads directly to Sera Monastery.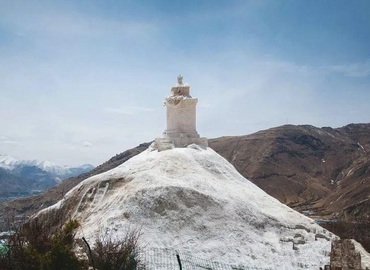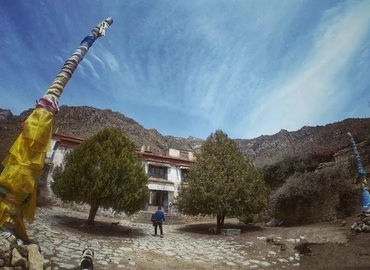 Pabanka Monastery
Tashi Chöling Monastery
Dadian Monastery
Sera Ütse Hermitage
Day 5 Departure from Lhasa
Your tour ends today. Our guide and driver will collect you from your hotel to transfer to Lhasa Airport/Railway Station for your next destination.
Our Service
INCLUSIONS
Tibet Tourism Bureau Permit (TTB) and all other necessary permits to Tibet;
All entrance tickets fee for tourist attractions listed in the itinerary;
Experienced local English-speaking tour guide;
Travel-licensed vehicle according to group size & season as itinerary needed including gas and parking fee;
All lodging listed in the itinerary; it's your decision about the accommodation class: luxury 5-star international hotel, comfortable 4-star hotel, economic 3-star hotel, or guesthouse. Please tell us your preference;
All meals listed in the above itinerary;
Pick-up & Drop-off service from Airport/railway station;
Travel Agency Liability insurance;
Government tax;
Express delivery fee of Permit (eg. SF. Express);
Food & lodgings for guide & driver;
Oxygen tank for emergency use;
Free use of sleeping bag;
Two bottles of mineral water per person per day.
EXCLUSIONS
International flight to and out of China;
Chinese Visa/China Group Visa; (Note: we could help you by providing the hotel or domestic flight reservation copies for your Chinese Visa or the invitation letter for your China Group Visa)
Domestic flight/train to and out of Lhasa; (We can help you book the domestic flight/train ticket at the BEST price. Please contact us for details.)
Meals are not included but we will recommend some good ones for you according to your requirements. Usually, it takes 3-10 USD per person for each meal.
While Gratuities for guide and driver is NOT mandatory, it is expected. Based on their service, you can tip them on the last day of the tour. Each of you is suggested to tip them 5-10 USD/day in total;
All the commission and tax charged by PayPal, Bank, and government when making payment. (e.g. PayPal --- 4.2%. Wire transfer --- 2%);
Personal expenses, like laundry, phone call, snacks, soft drinks, optional tour activities, etc.
Anything not mentioned in the Inclusions.
What Our Customers Say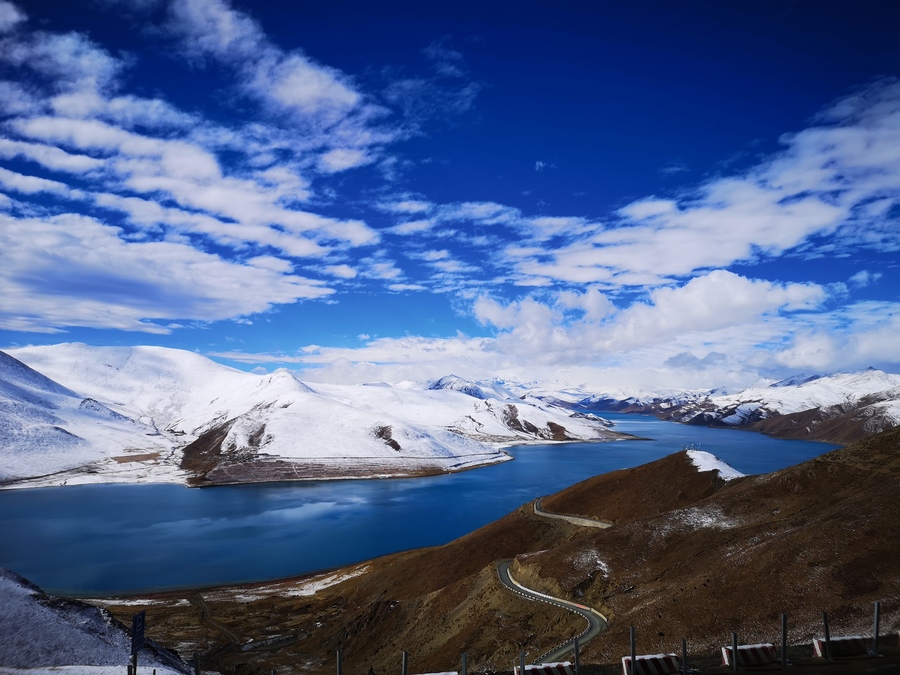 My TIBET experience with Great Tibet Tour was very brilliant.   It was the 2nd-time visit to TIBET but Shigatse and Gyantse. The hotel you chose me at Shigatse had very Lovely Tibetan decoration. and Guides ( both 2 guys)  were very kind and gentle. So I could relax. ....
Read more testimonials...
INQUIRY ABOUT THE TRIP
Email response within 0.5~24 hours.