8 Days In-depth Explore of Bhutan
In-depth Explore of Bhutan
Duration:

8 Days

Route:

Paro -Thimphu - Punakha - Trongsa - Bumthang - Phobjikha - Paro

Season:

Spring
Summer
Autumn
Winter

Tour Type:

Private Tour
Add

to Favorites
Overview
Bhutan Tour with extensions to Bumthang and Trongsa is a journey into the heartland of Bhutan. You will explore the mystery of Paro, hike to the Taktsang Monastery perched on a vertical cliff, discover the history and religious monasteries, temples and shrines in Thimphu and Punakha, browse beautiful Trongsa Dzong with artistic and gorgeous works in Bhutan's traditional architecture, and discover the most beautiful place in Bhutan - Bumthang. Overall, this journey takes you to visit many historical and religious landmarks of the Thunder Dragon Kingdom and lets you feel the magic of the happiest place in the world.
| Day | Route | Attractions & Activities |
| --- | --- | --- |
| 1 | Fly to Paro Airport and Transfer to Thimphu, 55km, Approx 1.5hrs | Trashi Chhoe Dzong, Takin Zoo |
| 2 | Thimphu - Trongsa, 187km, Approx 7hrs | Dochu La Pass, Trongsa Dzong |
| 3 | Trongsa - Bumthang, 79km, Approx 3hrs | Tamshing Lhakhang, Jambay Lhakhang, Jakar Dzong, Kurje Lhakhang |
| 4 | Bumthang – Phobjikha, 154km, Approx. 3hrs | Phobjikha Valley, Gangtey Goemba |
| 5 | Phobjikha-Wangdue Phodrang-Punakha, 82km, Approx 3hrs | Chimi Lhakhang, Wangdue Phodrang Dzong, Punakha Dzong |
| 6 | Punakha - Thimphu - Paro, 128km, Approx. 3.5hrs | Khamsum Yuelley Namgyel Chorten, Drukgyel Dzong, National Museum |
| 7 | Paro Sightseeing | Tiger's Nest, Kyichu Lhakhang, local market in Paro |
| 8 | Departure from Paro | Send off to the airport |
You will take the Royal Bhutan Airlines flight to Paro Airport, Bhutan. During the flight, you will enjoy the spectacular beauty of the Himalayas. After watching the beautiful plateau scenery on the plane, you will arrive at Paro Airport, the only airport in Bhutan. Your Bhutanese guide will wait for you outside the terminal building, and then take you to Thimphu - the capital of Bhutan. It takes about 2hrs driving for 55 kilometers.
In the afternoon, you will proceed to Trashi Chhoe Dzong, a majestic and grand castle on the west bank of the Wangchu River. This is the office of the current king and the seat of the internal affairs and finance departments. It is also the summer residence of religious leaders and central religious institutions. After the visit, go north to Takin Zoo, where is exclusively built for Bhutan's national animal - takin. Takin is a creature with a sheep head and cow body which is only living in Bhutan. If time permits, we will also arrange you to visit Thimphu's ordinary market.
Stay overnight in Thimphu
After breakfast, leave for Wangdu Podran. You will pass by Dochu La Pass at 3150 meters, where you can enjoy the breathtaking view of the Himalayas and the 108 stupas, also known as Druk Wangyal Chortens. After lunch, continue to the Pele La Pass (3300 meters above sea level) on the Black Mountains then you will reach the key town - Trongsa. Upon arrival, you will visit Trongsa Dzong, which is Bhutan's largest fortress and one of the most artistic and gorgeous works in Bhutan's traditional architecture.
Stay overnight in Trongsa
Today, you are setting off to Bumthang - the most beautiful place in Bhutan. Bumthang is the birthplace and center of Bhutan's religious culture. It consists of four valleys with unparalleled beautiful valley scenery. After going across the highest point in the central valley - Yongtong La Pass at 3,425 meters and you will enter Bumthang
There are several important monasteries and temples to visit in Bumthang. First, we will visit Tamshing Lhakhang, built-in 1501 by Pema Lingpa, which contains interesting and ancient frescoes. Then Jambay Lhakhang, Bhutan's first temple built by Tibetan king Songtsen Gampo. Next, the holy place of Bumthang - Jakar Dzong, also known as "Castle of the White Bird", is now the administrative and religious seat. Finally, Kurje Lhakhang, a famous historical site where Padmasambhava once practiced.
Stay overnight in Bumthang
In the morning, leave beautiful Bumthang for Phobjikha by crossing over Yotong La Pass and Pele La Pass. Along the way, you can admire the scenic areas with primordial forests. At the foot of the Balck Mountain Range, Phobjikha Valley is a biodiversity zone, with dense coniferous forests, rhododendrons, magnolias, oak trees, banana trees and cacti. If you climb to the ridge, you can enjoy the beauty of the distant peaks and forests. Phobjikha is also home to the rare and endangered migratory bird Black-necked Crane. Black-necked cranes are beloved by the Bhutanese. They can be seen everywhere in the lowlands of the Phobjikha River Valley. Their breathtaking melancholic cries fill the sky. You will be deeply attracted by the charming landscape here.
On the way, you can visit Gangtey Goemba, an ancient and magnificent architecture. Lamas here have a strict discipline and try their best to avoid contact with secular people. This is the only Nyingmapa Red Sect in the Black Mountains. Its founder is the sacred Tertön Pema Nyingba, whose legend is widely circulated in central Bhutan.
Stay overnight in Phobjikha
After breakfast, set off by car to cross the Pele La Pass (3390 meters above sea level) and return to Wangdue Phodrang. You will visit Chimi Lhakhang, which is a temple built-in memory of Lama Drukpa Kunley by his cousin. Lama Drukpa Kunley is a saint widely respected by Bhutanese and is called a mad saint. It is said that women without children can get pregnant after coming here to worship. On the way, you will visit Wangdue Phodrang Dzong. Legend has it that when people were choosing the site, they saw four crows flying in four directions, showing auspicious signs of Buddhism spreading far and wide, so they decided to build a temple here.
The last and most important attraction today is Punakha Dzong, the second castle in Bhutan, located at the confluence of the Pho Chhu (father) and Mo Chhu (mother) rivers in the Punakha–Wangdue valley. It was still the seat of the national government until 1950. Punakha Dzong is recognized as the most beautiful Dzong in Bhutan, especially in spring, when the blue-purple jacarandas surrounding the Dzong are in full bloom.
Stay overnight in Punakha
After breakfast, head to visit
Khamsum Yuelley Namgyel Chorten
. It is the only pagoda in Bhutan that enshrines all kinds of protector gods, and its various levels are dedicated to different protector gods. This is unique in the world. After touring in Punakha, return to Paro via Thimphu and visit the ruins of
Drukgyel Dzong
, which was built to commemorate Bhutan's victory over Tibetan invaders. This is also one of the best places to watch the snow-capped mountains in Bhutan. Your tour guide will also show you Ta Dzong, the watchtower of Paro Dzong, now the
National Museum
of Bhutan. If time permits, you will have the chance to visit the local houses to experience the most authentic Bhutanese life.
Stay overnight in Paro
In the morning you will trek from the bottom of Paro Valley to the Taktsang Monastery, perched on the side of the mountain. Taktsang (commonly known as Tiger's Nest) is the most sacred site in Bhutan and one of the top ten super temples in the world to go. Located at an elevation of 3120 meters, Taktsang is the birthplace of Bhutanese Buddhism. Guru Rinpoche flew here from Tibet on the back of a tigress, which was the manifestation of his divine consort Yeshe Tsogyal.
You can ride a horse or walk to Tiger's Nest. It is a challenging trek so you will gain merit with every step. The view from the Paro Valley to the monastery is worth your climb. The hike starts from a gentle forest with some prayer flags. After passing a creek and some water-powered prayer wheels, the trail starts getting steeper.
On halfway up the monastery, there is a nice teahouse with great views of Taktsang Monastery that makes a welcome stopping point. You can get some tea and take a break here. You can continue climbing to the viewpoint, which is the best place to take photos of Taktsang. From here, you will walk down a series of steep stairs to a waterfall to achieve your final ascent to the entrance. Here you will be required to leave your backpacks, cameras, and phones.
In the afternoon, you will visit Kyichu Lhakhang, the oldest temple in Bhutan. After visiting today's attractions, your tour guide can also take you to visit the ordinary market in Paro, where you can buy some handicrafts with Bhutanese characteristics.
Stay overnight in Paro
After breakfast, your guide and driver will transfer you to Para International Airport in time for your departure flight to onward destination.
What Our Customers Say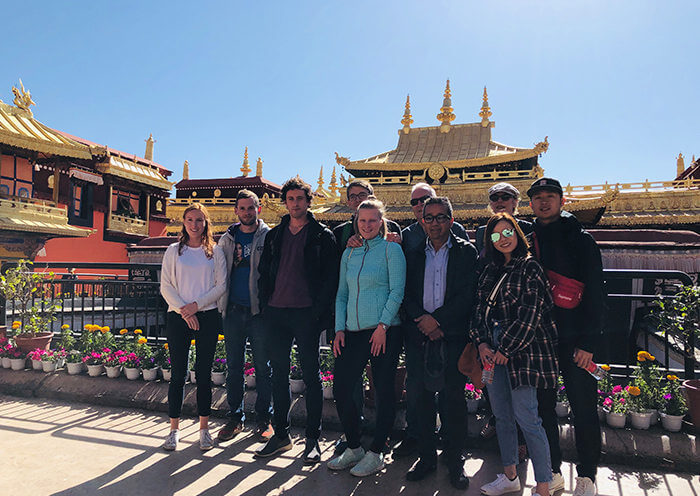 The initial itinerary that was sent to me called for Drepung/Sera on first full day, then Potala/Jokhang the next day. We ended up doing Potala first day and were grouped with 3 other tourists. Not a huge problem and we are used to having to be flexible when we travel, but would have been nice to ha ....
Read more testimonials...
INQUIRY ABOUT THE TRIP
Email response within 0.5~24 hours.