Gangtey Trek
Duration:

8 Days

Route:

Paro - Thimphu - Gangtey - Punakha - Paro

Season:

Spring
Summer
Autumn
Winter

Tour Type:

Private Tour
Add

to Favorites
Overview
Lying between the rolling green hill, Gangtey is the most beautiful valley in Bhutan. At the bottom of the valley, there is a clear winding stream as well with cattle, sheep and horses grazing freely. In winter, flocks of black-neck cranes will fly here to spend the winter. This is a journey across forests, streams, pine cypresses, magnolias, and azaleas. There's very little ascend and descend, almost flat roads plus small soil slopes in low altitude so Gangtey trek is a very easy route.
Gangtey valley is very wide and green, and it is especially suitable for being the background of portrait photos. Coupled with colorful prayer flags, even casual photos are gorgeous. The best season to visit is from March to June and from September to November. Especially in April, when the azaleas are in full bloom, the scenery here is particularly spectacular. In addition, we will not miss some of the most famous attractions, Tiger's Nest Monastery, Punakha Dzong, and the Chimi Lhakhang - a holy place for praying for pregnancy.
| Day | Route | Attractions & Activities |
| --- | --- | --- |
| 1 | Fly to Paro Airport and Transfer to Thimphu, 55km, Approx 1.5hrs | Trashi Chhoe Dzong, Takin Zoo |
| 2 | Drive from Thimphu to Gangtey, 150km, Approx. 5.5 hours | Dochu-la pass, Gangtey Monastery |
| 3 | Gangtey Trek①: Gangtey - Gogona | Gangtey to Gogona |
| 4 | Gangtey Trek②: Gogona - Khotokha Village | Gogona to Khotokha Village |
| 5 | Gangtey Trek③: Khothokha Village - Tika Zampa; Drive to Wangdue Phodrang | Khothokha Village to Tika Zampa; Drive to Wangdue Phodrang |
| 6 | Drive to Punakha Then Paro, 131km, Approx. 4hrs | Chimi Lhakhang, Punakha Dzong |
| 7 | Paro Sightseeing | Tige's Nest, Kyichu Lhakhang, local market in Paro |
| 8 | Departure from Paro | Send off to the airport |
You will take the Royal Bhutan Airlines flight to Paro Airport, Bhutan. During the flight, you will enjoy the spectacular beauty of the Himalayas. After watching the beautiful plateau scenery on the plane, you will arrive at Paro Airport, the only airport in Bhutan. Your Bhutanese guide will wait for you outside the terminal building, and then take you to Thimphu - the capital of Bhutan. It takes about 2hrs driving for 55 kilometers.
In the afternoon, you will proceed to Trashi Chhoe Dzong, a majestic and grand castle on the west bank of the Wangchu River. This is the office of the current king and the seat of the internal affairs and finance departments. It is also the summer residence of religious leaders and central religious institutions. After the visit, go north to Takin Zoo, where is exclusively built for Bhutan's national animal - takin. Takin is a creature with a sheep head and cow body which is only living in Bhutan. If time permits, we will also arrange you to visit Thimphu's ordinary market.
Stay overnight in Thimphu
After breakfast, we drive up to Dochu-la pass (3,088m/ 10,130 ft) stopping briefly here to take in the view and admire the Chorten, mani wall, and prayer flags that decorate the highest point on the road. If the weather is fine, you can see peaks like Masagang (7,158m), Tsendagang (6,960m), Terigang (7,060m), Jejegangphugang (7,158 m ), Kangphugang (7,170 m ), Zongphugang (7, 060 m ), and Gangkar puensum, the highest peak in Bhutan at 7,497m.
After 5 hrs' drive, you will get to the Phobjikha Valley , which is one of the most beautiful and unspoiled places in Bhutan and well known as the winter home of the black-necked cranes. You can see these elegant and shy birds from early November to the end of March. Finally, you may overlook the Phobjikha valley from Gangtey Goemba, an old monastery that dates back to the 17th century.
Overnight at the hotel in Gangtey
15KM | 6-7 HOURS | 610M ASCENT | 410M DESCENT | CAMP ALT 3130M
The trek begins from Phobjika Valley at 2830km and leads south, then west through meadows, and through a mixed forest of rhododendron, bamboo, juniper, and magnolia. After crossing Tsele La Pass (3,430m), you will descend to Juge Kangkha Chhu valley. Afterward, there'll be a short climb to the camp at Gogona (3,100m), a beautiful hilltop site overlooking a long valley. Nearby is Gogona Lhakhang and dozens of poles with white prayer flags fluttering. Gogona is well known for its "Gogona Cheese" production.
A 30-minute walk beyond Gogona is a hamlet where you may find homemade ara (local alcoholic drink) to buy. The women here weave blankets. The village folks speak here a different dialect called Bjop-kha (language of the nomads).
Overnight camp
16KM | 5-7 HOURS | 450M ASCENT | 860M DESCENT | CAMP ALT 2790M
Follow the trail going gently uphill, you will pass flocks of sheep and plowed fields then climb into a forest of firs, oak, spruce, dwarf rhododendron, miniature azaleas, cypress, and juniper. You may identify the daphne plants by its yellow flowers, from which the Bhutanese make traditional paper. After a long, but gradual climbs, you will cross Shobe La Pass at 3480 meters.
The trail down from the pass leads to a wide valley, surrounded by beautiful mountain ranges. Eventually, you will come to Chorten Karpo, where there are four Chortens dedicated to the four chief abbots who came from this area. The best campsite nearby is in a clearing at 2790m, beside a forest of large blue pines overlooking the valley and the village of Khothangkha, comprising about 60 rustic houses.
Overnight camp
12KM | 4-5 HOURS | 120M ASCENT | 1340M DESCENT
From the camp, you will ascend shortly to the Tashi La pass(2800m), then the path descends steeply through a wonderful forest full of birdlife and the undergrowth changing from rhododendrons and magnolia to ferns and dwarf bamboo. This stretch of trail is Bhutan's best bird watching area. The trail then descends steeply from terraced wheat fields and eventually meets the road near Tikke Zampa at 1500m. Trek ends.
Later, transfer to Wangdue Phodrang town. For the rest of the day, you may walk around to explore the town.
Stay overnight in Wangdue Phodrang
In the morning, we will set out from Wangdue Phodrang to Paro. By the way, You will visit Chimi Lhakhang, which is a temple built-in memory of Lama Drukpa Kunley by his cousin. Lama Drukpa Kunley is a saint widely respected by Bhutanese and is called a mad saint. It is said that women without children can get pregnant after coming here to worship.
Later, you will visit the most important attraction today Punakha Dzong, the second castle in Bhutan, located at the confluence of the Pho Chhu (father) and Mo Chhu (mother) rivers in the Punakha–Wangdue valley. It was still the seat of the national government until 1950. Punakha Dzong is recognized as the most beautiful Dzong in Bhutan, especially in spring, when the blue-purple jacarandas surrounding the Dzong are in full bloom.
In the afternoon, we will drive to Paro and stay overnight there.
In the morning you will trek from the bottom of Paro Valley to the Taktsang Monastery, perched on the side of the mountain. Taktsang (commonly known as Tiger's Nest) is the most sacred site in Bhutan and one of the top ten super temples in the world to go. Located at an elevation of 3120 meters, Taktsang is the birthplace of Bhutanese Buddhism. Guru Rinpoche flew here from Tibet on the back of a tigress, which was the manifestation of his divine consort Yeshe Tsogyal.
You can ride a horse or walk to Tiger's Nest. It is a challenging trek so you will gain merit with every step. The view from the Paro Valley to the monastery is worth your climb. The hike starts from a gentle forest with some prayer flags. After passing a creek and some water-powered prayer wheels, the trail starts getting steeper.
On the halfway up the monastery, there is a nice teahouse with great views of Taktsang Monastery that makes a welcome stopping point. You can get some tea and take a break here. You can continue climbing to the viewpoint, where's the best place to take photos of Taktsang. From here, you will walk down a series of steep stairs to a waterfall to achieve your final ascent to the entrance. Here you will be required to leave your backpacks, cameras, and phones.
In the afternoon, you will visit Kyichu Lhakhang, the oldest temple in Bhutan. After visiting today's attractions, your tour guide can also take you to visit the ordinary market in Paro, where you can buy some handicrafts with Bhutanese characteristics.
Stay overnight in Paro
Your guide will pick you up from your hotel, take you to the airport, and help you check in for your flight from Bhutan.
What Our Customers Say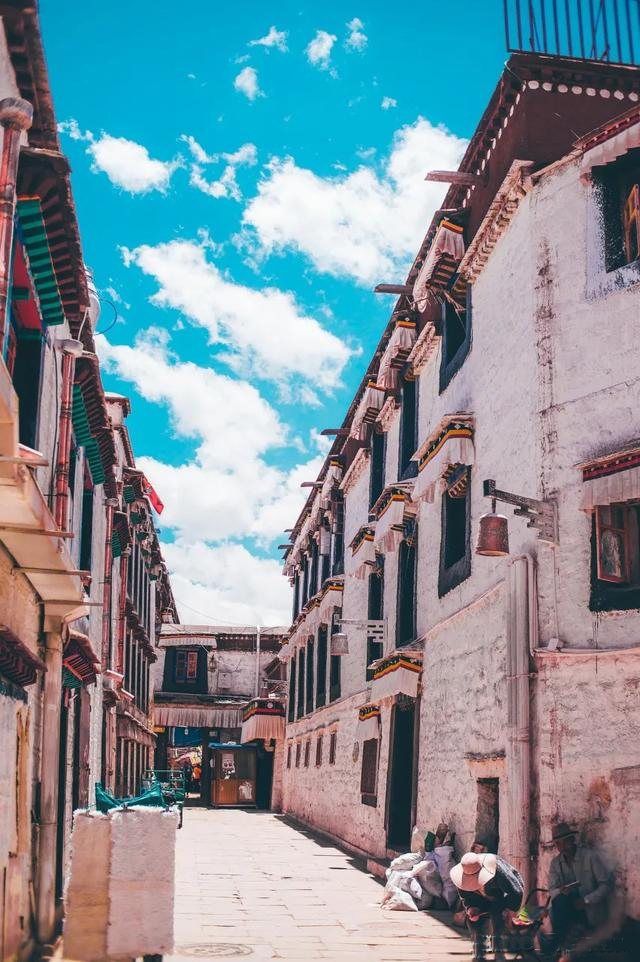 I just returned to Beijing yesterday and I wanted to let you know that I had a wonderful trip to Tibet. Your company arranged everything very well, and Lobsang was an excellent tour guide, I was deeply impressed by how hard-working and dedicated he was, especially when he helped arrange my nucleic a ....
Read more testimonials...
INQUIRY ABOUT THE TRIP
Email response within 0.5~24 hours.