Early Bird Deals & Tour Discounts
Dreaming of a visit to Tibet to see its majestic mountains, mysterious Tibetan Buddhist culture, and unique plateau landscape? It pays to plan ahead! To bring benefit to our customers after the lock-down, Great Tibet Tour, as a senior tour operator in Tibet is offering a big discount for early bird booking. You can enjoy 15% OFF on ALL tours for 2021 or beyond if you pre-book by May 31. You will save up to USD400 by participating in this special offer. What's more, our policy of FREE CHANGES and FREE CANCELLATIONS will ensure you a most worry-free booking.
Right now, it's a GREAT time to start planning your trip far in advance. Try our quality service, explore Tibet with our excellent value packages, and get a good deal! You will know even at such a preferential price you still have the best experience. Check out our tours to get a sense of where you'd like to go, then feel free to contact us. We are here to help plan your perfect vacation to Tibet.

Terms
The booking will be confirmed upon receipt of your reservation deposit, 30% of the total price for your tours.
For any changes or cancellation one month before your tour starts, we charge no fees except for any actual losses caused.
The above specials cannot be combined with any other offers or incentives.
GreatTibetTour reserves the right to the final interpretation of the terms and conditions of this special offer.
Resume your booking if you canceled your booked tour due to the pandemic since Feb 1st, 2020, to enjoy the same discount.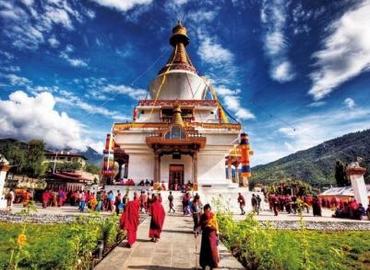 Explore Tibet, Nepal, and Bhutan together during this journey. For your visit to Lhasa city, you may be surprised by the profound Buddhist atmosphere and unique historical architecture. Then move your way to EBC, where you can catch a glimpse of Mount Everest. Afterward, make your way to Kathmandu, where you may take a fantastic tour to Kathmandu Valley. Finally, you will get to Bhutan, where you can see Tiger's Nest.