Sichuan Group Tour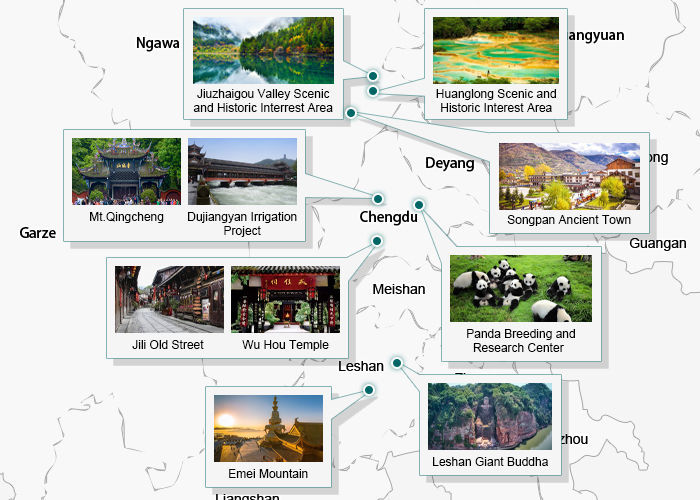 Sichuan province is next to Tibet Autonomous Region. So you can see Tibetan ethnic groups in the area of Ganzi and Aba. But there is still a little difference between the Tibetans in Sichuan and Tibet. Thus, we offer some tour groups to Sichuan, tourists can find out the features of these two by themselves. Besides, as the land of abundance, there are many worth-visiting places in Sichuan.
Let's say there are four parts of tourist elements in Sichuan. Of course, first are the marvelous landscapes, such as amazing Jiuzhaigou, Huanglong National Park, 4 Girls Mountain, Daocheng Yading - the last Shangri-La…All of these can let you know what is heaven on earth.
Second, are religious holy places. Mt. Emei, one of the four Buddhist holy mountains in China; Leshan Giant Buddha, the largest stone carving Buddha in China, both are in the list of World Cultural and Natural Heritage.
Third is Giant Panda Base. There is no doubt that most people on the planet like this lovely animal. So why not come to have personal contact with Panda in its hometown? We bet it must be more interesting than watching in the crowded Panda Museum from the distance.
The last part is the culture and lifestyle. You can see the jaw-dropping face-changing folk performance and taste the spicy Sichuan cuisine. Or you can learn to play Mahjong to enjoy a real leisure life of Sichuan.
All the above list will not disappoint you. Check the hand-picked group tour packages below and start your trip!