What Tibetan Festival You Can Expect for the Rest of 2017
What Tibetan Festival You Can Expect for the Rest of 2017
Tibetan is a nationality with many festivals, at least one per month no matter big or small scale. Besides, those festivals are different from each region, that's why there are more than one hundred kinds of festivals in Tibet. It's known that Tibetan people believe in Buddhism and Buddhism has integrated with their social life. Obviously, Tibetan festivals have religious characters as well. Most of the Tibetan festivals are celebrated for some significant events in Buddhism history or legends, such as the birth of Buddha, the enlightenment of some eminent monks, and so on. Even if there is no religious reason for some festivals, for example, the Tibetan new year, Tibetan people will also hold a ceremony of gods worshiping. For all the minority nationalities in China, there is a common feature - good at singing and dancing. It seems they are born to have an ebullient nature. So, they have many activities arranged for every festival, which make the feast worth attending and foreign people could know Tibetan culture more deeply by joining the locals. Tibetan New Year, Linka Festival, Butter Lantern Festival, Saga Dawa Festival… are all important feasts for Tibetans. But all of the large celebrations for the above festivals in 2017 already past. You can only wait for 2018 if you want to attend those feasts. So, what are the rest meaningful Tibetan festivals you can expect in 2017?
Shoton Festival, 22nd. August 2017
As one of the most attractive Tibetan festival, Shoton Festival has a large scale in Lhasa while a smaller one in Shigatse Prefecture. "Sho" means yogurt, "Ton" means banquet in the Tibetan language. That's why it was called "Yogurt Festival" as well. It is held on the first day of every 7th. month according to the Tibetan calendar and usually lasts for 4-5 days. The Gelugpa Tibetan Buddhism has a strict regulation that every lama must stay at monasteries in 15th. to 30th. June, for keeping from killing insects. During this time, they can concentrate on practicing Buddhism and doing meditation. After the ban broken, the lay people, like farmers and herdsmen will offer yogurt to the lamas when they come out from monasteries for support of their hard practice. That is where the Shoton Festival comes from. Nowadays, it begins with a ceremony of unfolding the large Tangka at the back hill of Drepung Monastery, then comes after a big celebration by watching Tibetan opera performances, eating Tibetan yogurt, having a relaxing time with family members and friends in Norbulingka Park, etc.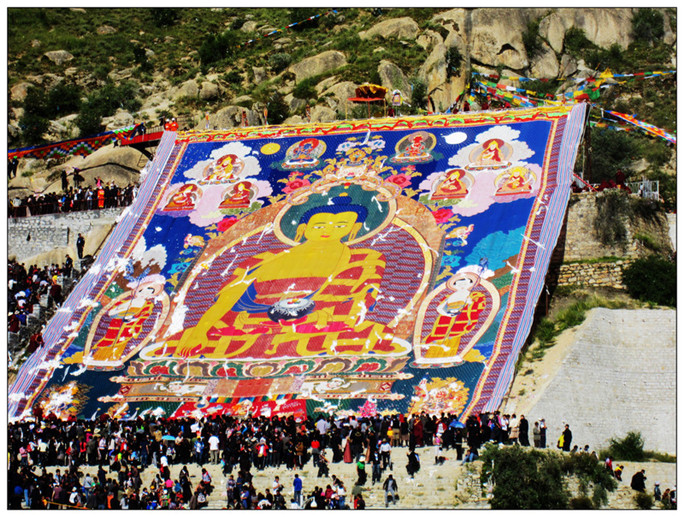 Buddha's Descent Day, 10th. November 2017
It has another Tibetan name, Lhabab Duchen Festival. It is a celebration to welcome Buddha Sakyamuni back from heaven on 22nd. September in the Tibetan calendar. This festival is not for the public, relatively only held in the monasteries or temples. It's kind of a Buddhist event. But in the folks, the Tibetan people will paint the walls of monasteries or their own houses to greet Sakyamuni and pray for blessing from him on that day.
Gongbu New Year Festival, 19th. November 2017
This is a special feast held only in Nyingchi, Tibet, where was called as Gongbu in the past. A long time ago, when Tibet was invaded by foreign enemies, there founded a patriotic army by Gongbu people to protect hometown from damage. But that was already in September and the soldiers were afraid of missing the Losar Festival with families. Therefore, the king of Gongbu issued a new order that to celebrate the new year in advance. A big celebration was held in early October which was supposed to be held in the February of the next year. And this tradition lasted until today. At that time, travelers can watch the ceremony of beating ghost, eat yummy Jieda at a local family, enjoy a happy time in Nyingchi, the "Switzerland in Tibet", also the prefecture with the lowest elevation in Tibet.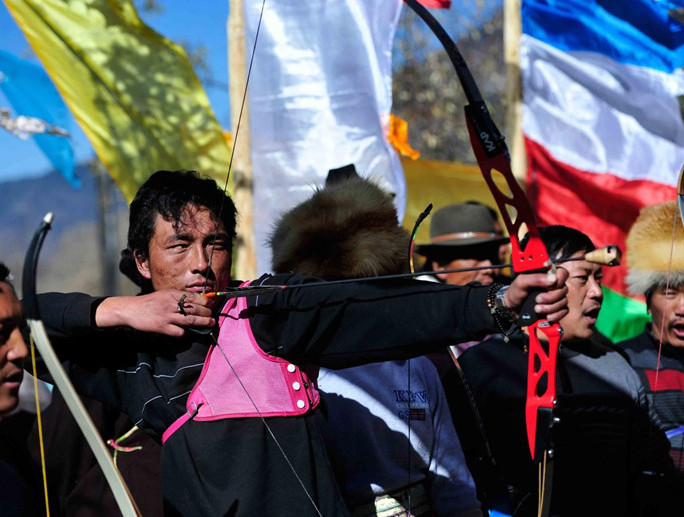 Palden Lhamo Festival, 3rd. December 2017
This may be the most interesting festival for females and children in Tibet. You can also call it "Fairy Festival" or "Tianmu Festival", which is celebrated on 15th. October in the Tibetan calendar. In the morning, all the females in Lhasa will dress up and burn some branches and leaves at Barkhor Street, the oldest but busiest market in Tibet. After that, they will head to Jokhang Temple for pilgrimage and make a wish. It's said that today's wish will come true definitely. And all the children and females can ask for money from males as gifts on that day. Those men who give out gifts will get blessed by Buddha in the coming year. So, if you happen to be in Tibet on that day, please give some small change to the females or children who ask for money from you. This means you respect them and you will have good luck after doing it.
Tsongkhapa Butter Lamp Festival, 12th. December 2017
This is a festival to honor the founder of Gelugpa Tibetan Buddhism, Tsongkapa. It is held on 25th. October in the Tibetan calendar and has a Tibetan name "Gaden Ngachen Chenmo Festival". On that day, the Lamas will light up the butter lamps at the altars inside and outside of all the Gelugpa monasteries while the lay people who believe in Gelugpa will light lamps in the praying room of their house. The light must be kept for the whole night. You can see how much they respect Tsongkapa if you take part in this festival. And you will understand Yellow Hat Sect of Tibetan Buddhism deeper than before.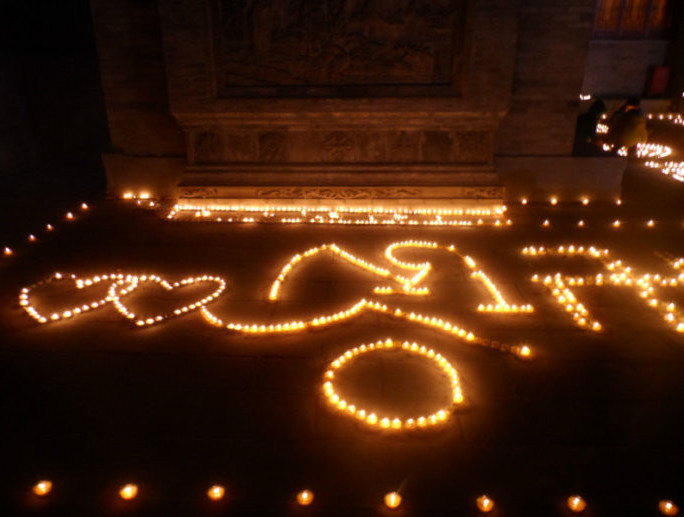 Have you felt attracted by the rest Tibetan festivals that are coming soon in 2017? Time is tik-tocking. Send us an inquiry to catch your interested one within this year. Joining a festival tour is obviously a good idea to explore Tibetan culture and customs. If you want to know more about Tibetan festivals, please check our 2017 Tibetan Festivals Calendar. Don't feel regretful if you missed the one you want to participate in. All the Tibetan festival are once in a year, there is still a chance to experience it in 2018. Should you need any help, please tell us your favorite festival, our travel consultants will recommend the suitable group tour or design a tailor-made private tour according to your travel plans.
Related Articles
Ask a Quick Question Below? Or Call 0086-891-6679450
Email response within 0.5~24 hours.