by Nance
Last Updated: 2017-09-06
On your Tibet tour, you should never miss the good chance to taste the unique Tibetan food and drinks. The food in Tibet is truly different from Chinese cuisine. Most of the dishes in Tibetan made of barley and yak meat, but fish and other types of meat are rare. Let's see what food and drinks you can't miss when traveling in Tibet.
What food in Tibet?
1 Tsampa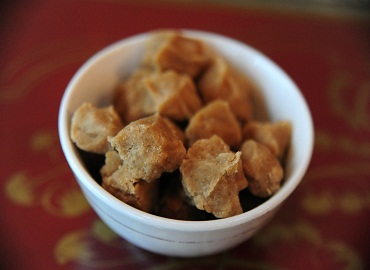 Tsampa is a staple food in Tibet. Tibetan people eat it every meal. Tsampa is made of roasted barley flour and butter. As it easy to carry, Tsampa is very suitable for nomadic lifestyle. There are two ways of making Tsampa: One is to make Tsampa with butter tea, the other is to make porridge with beef or mutton and vegetables. The former is salty, while the latter is usually added sugar to make it sweet. If the fragrant Tsampa match mellow wine, it's so great to taste.
2 Momos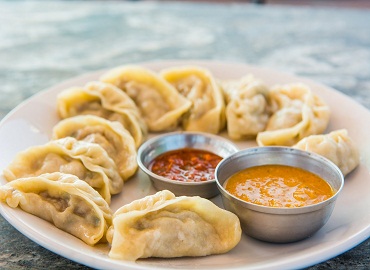 Momos are the well-known Tibetan cuisine. It is a flexible dish that you can either eat as meals or snacks. The half-moon-shaped Momos can be either steamed or fried. It made with yak meat and vegetables. It tastes a little bit salty. It would be greater if you have it with spicy or sweet sauces. Besides, if you are a vegetarian, you can order Momos made with onion, carrot, and chives. You will enjoy new flavors of the fixed vegetables!
3 Yak Meat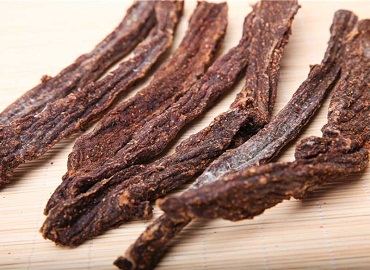 Yak meat is the most popular meat in Tibet. Yak in Tibet living in the pollution-free alpine zone, eat a large number of cordyceps, fritillaria and other valuable herbal medicine, that's why it riches in nutrients, in addition, Yak meat tastes tender and delicious. Many Tibetans often eat raw meat, for the others, they usually boil yak meat with ginger, salt, and spices. Dried Yak meat strips are also popular in Tibet. It may be difficult to chew, but taste delicious. Besides, Dried Yak meat strips can be stored and used for long-distance travel.
What drinks in Tibet?
1 Butter tea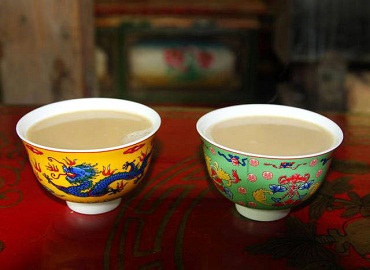 Butter tea is a unique drink in Tibet, which made with butter and tea. With a bright brass pot slowly pouring out, butter tea in the porcelain bowl appearing a layer of thick foam,  which tastes slightly sweet as well as salty. Drinking butter tea can keep warm in winter, reduce the body damage caused by the lack of vegetables in the plateau, and even prevent altitude sickness. People say that the butter tea tastes more like soup rather than tea.
2 Tibetan Yogurt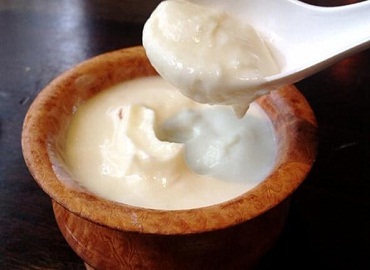 Tibetan yogurt is fermented by yak milk. In Lhasa, there are many shops and stalls selling yogurt. The price of yogurt is not very expensive with only 10 ~ 20 RMB. In bright sunshine, you can wander around the Barkhor Street and eat yummy yogurt. Of course, it tastes heavy than cow milkalso very sour. When you drink it, you have to add a lot of sugar.
3 Tibetan Barley Wine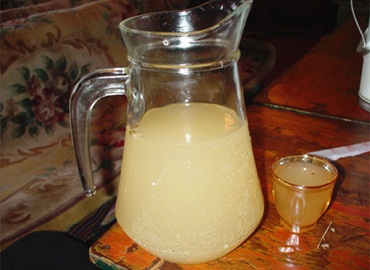 As the favorite alcoholic drink in Tibetan, Tibetan barley wine is made from fermented barley grown on the Qinghai-Tibet Plateau. The Tibetan people carefully selected the fullness barley millet to brew a bucket of mellow Tibetan Barley Wine. It tastes mild, slightly sweet and sour, and contains a little alcohol.
4 Sweet Tea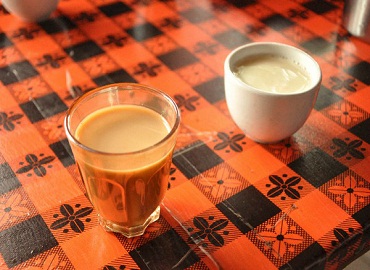 With the rising sun in Lhasa city, sweet tea shops slowly open up in the street. People's new day starts with a cup of sweet tea in Lhasa. Sweet tea in Lhasa which has been a hundred years so far, and now it becomes one of the most popular drinks in Lhasa food culture. It boiled with black tea, milk, sugar and other modulation. As a result, it tastes sweet and delicious.
Related Articles & Posts
Ask a Quick Question? Ask below or call 0086-891-6873166