by Nance
Last Updated: 2017-12-06
Tibet is full of beautiful highland landscapes and the wonders of history. Even if you have explored all the attractions, without a wonderful shopping experience in Barkhor Street, your journey in Tibet will not be completed. So it's a wise way to freely explore Barkhor Street at least half day when you travel to Tibet.
1 What you can buy in Tibet
You may want to buy some interesting souvenirs for your friends and family before leaving Tibet. After visiting Tibet, you may also want to bring some precious works of art to leave your journey with unforgettable memories.
1)   Tibetan Thangka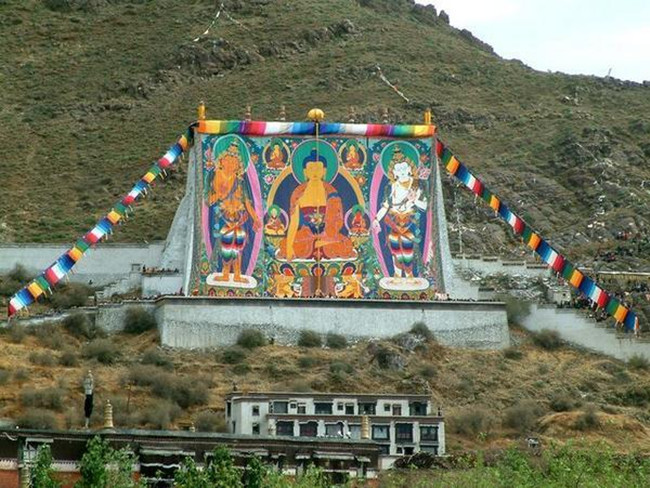 Tibetan Thangka is one of the most beautiful souvenirs in Tibet. It is an exquisite Tibetan scroll, which is closely related to Buddhism. It is used to portray Buddhist gods and record the events of the Buddhist history. The Thangka painting can be used in a variety of techniques including silk tapestry with cut designs, hand-painted, color printing, embroidery, and brocade inlay. Sometimes, it is also decorated with jewels.
2) Tibet jewels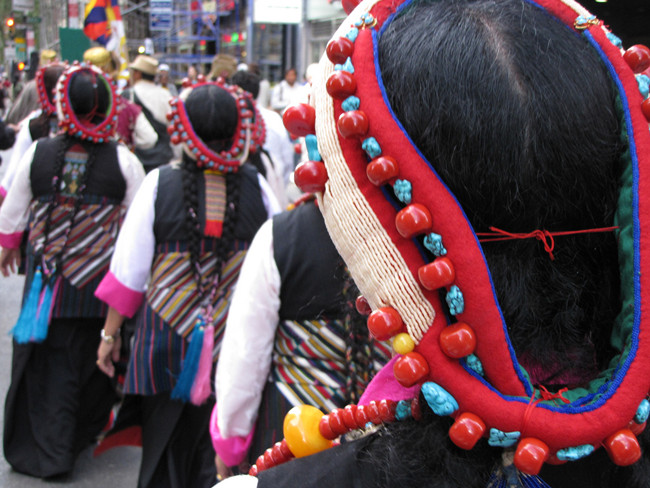 Tibet jewels are charming and beautiful. You should collect at least one of them to make your Tibet tour unforgettable. Bracelets, necklaces, and amulets are made from many different metals, such as copper, gold, bronze, and even silver. Delicate tones are used to beautify jewels, more like turquoise, wood, bamboo, and emerald bones. Most travelers like to buy Tibet ornaments, especially jewelry because they are not only exotic but also represent blessing and keep evils away.
3) Tibet prayer wheels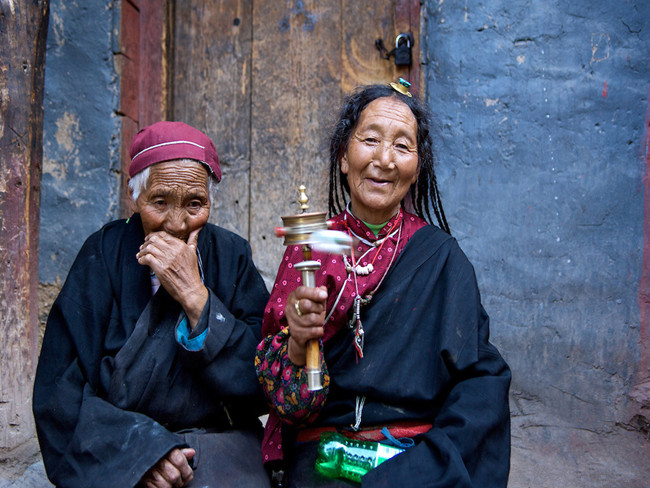 The prayer wheels in Tibet play an important role in the religious customs of Tibet. The prayer wheel in Tibet is a cylindrical device on the central axis to spread blessing in Tibetan Buddhism. A roll of thin paper or papyrus is written by ancient Buddhist scriptures and wound on a cylindrical drum as a protective container for prayers. Tibetan Buddhists believe that the effect of rotary prayer wheel is the same as the effect of oral recitation prayer. Many Tibetans have their own prayer wheels when they are walking around Barkhor Street. These prayer wheels are also found in Nepal, but the Tibet prayer wheel is unique in design.
4) Tibet knife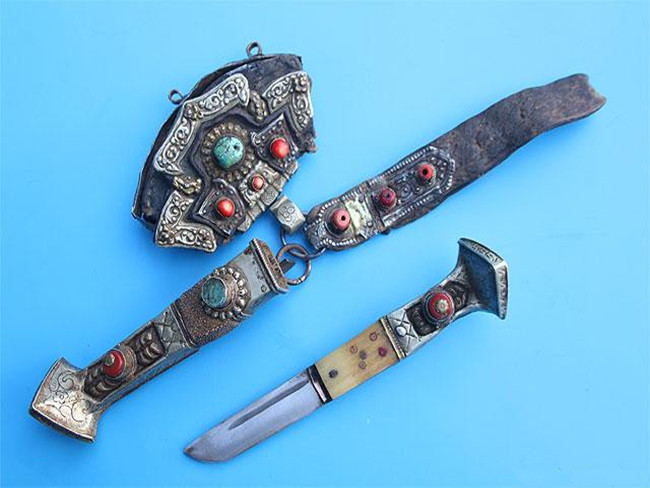 Tibet knife is indispensable to the daily life in Tibet. The construction of a knife requires a lot of effort and talent. Pearls and other colorful gems are inlaid in the shells of these knives, making the deadly weapon good-looking. Some of the knives are made from the bone of the yak, which is maybe a little expensive. Buying a Tibet knife is a necessary experience in remembrance of your shopping in Tibet. According to the material quality and the technological level, the price of Tibet knife can range from a few dollars to a few hundred dollars. It is worth noting that all travelers who carry Tibet knife can't pass the security check at the airport and railway station, but you can send them anywhere via the post office, which is located at Beijing Zhong Road, Tibet.
2 How to exchange money in Tibet
In Tibet, except for RMB, the dollar can only be accepted. In big cities of Tibet such as Lhasa, Shigatse, vendors accept the dollar but you may not be able to get a good exchange rate. In small cities of Tibet, the dollar is unacceptable. Credit cards can only be accepted in Lhasa, Shigatse and other big cities in Tibet. Most internationally recognized credit cards can be used in Lhasa, including Visa, MasterCard, American Express, Dinner's club and the JCB card of Japan. Credit card symbols are displayed in the visible places in stores and hotels, showing that the credit card is accepted. However, ATM is not very common in Tibet. What's more, you can exchange money at the Bank of China in Lhasa by taking your passport. However, in the peak season, it is usually necessary to wait in line for a period of time to exchange money. So when you want to buy some souvenirs in Tibet, you'd better carry more cash before you travel to Tibet.
3 Tips for shopping in Tibet
1)   Remember to bargain with the owner of the shop. Like other traditional markets in the world, you should bargain with the shopkeeper to buy good things at a low price. The price cut in half is usually appropriate.
2)   Carefully check the quality of Tibet jewels. Don't believe any jewels sold at high prices in outdoor stalls because they usually sale jewels made from false materials. If you need to buy jewelry, you'd better go to the certified store unless you are good at checking the authenticity of jewels. You are not advised to take it more than a few hundred dollars.
3)   If some locals try to sell you some souvenirs which you are not interested in, don't be afraid of refusing.
4)    You can choose to do shopping at Barkhor Street in the morning or at night because the Tibetans attach great importance to their first and last customers on the same day.
Related Articles & Posts
Ask a Quick Question? Ask below or call 0086-891-6873166